Vijay Shekhar Sharma, Founder and CEO, Paytm
Fintech giant Paytm's latest acquisition of insurance firm Raheja QBE for $74 million portends a metamorphosis in the Indian financial services industry where the penetration of financial services and offerings continues to be very low, despite digitisation taking place at breakneck speed.
"At Paytm, we are on a mission to drive the financial inclusion of over 500 million Indians, and our acquisition of Raheja QBE is a significant step towards this goal," Amit Nayyar, Paytm's President, tells YourStory.
Bringing millions of underserved Indians into the folds of the mainstream economy has always been Paytm's central mission – ever since the fintech startup and its adroit Founder and Chief Executive Officer Vijay Shekhar Sharma took the reins of India's fintech revolution over a decade ago.
Over the past few years, India has emerged a leader in driving digital payments adoption among the masses, evolving from an online-only model to a complete 360-degree adoption of payments via mobile phones, mainly through wallets, Quick Response (QR) codes, United Payments Interface (UPI), and cards.
Still, insurance products continue to have one of the lowest penetration rates among financial services offerings. A major reason for the low penetration of formal financial services such as insurance, credit, and savings remains inaccessibility to financial institutions, especially for those living in rural and far-flung areas. 
However, fintech has upended that by not only putting financial services offerings in the hands of people, regardless of their location, but also helping them sign on for such services using independent identity verification services and enabling them to tailor financial products to their needs.
"We have extensive plans to strengthen our position as a fintech leader by increasing our offerings in the financial services space, and our acquisition of Raheja QBE will enable us to build on our reach with our merchant partners and customers," Amit says.
Amit Nayyar, President, Paytm
On July 6, Paytm announced it would buy all of Prism Johnson's 51 percent stake and ASX-listed QBE's 49 percent stake in Raheja QBE through QorQl Pvt Ltd, which is a technology company with majority shareholding of Vijay Shekhar Sharma and remaining held by Paytm's parent company One97 Communications.
"Insurance (both life and general) is highly under-penetrated in India as compared to other countries. With Paytm's reach, we have the unique advantage of taking insurance to the larger population of the country," Amit says.
To be sure, Paytm aims to give half a billion Indians access to a range of financial services offerings across savings, credit, protection, and wealth management, and its recent acquisition of Raheja QBE is one way it's getting deeper into the space, say analysts covering the fintech space.
Infographics by Tenzin Pema
Also ReadPaytm and Vijay Shekhar Sharma to acquire general insurer Raheja QBE
Paytm, which has over 150 million annual transacting users, is expected to close the acquisition of Raheja QBE after receiving approval from the Insurance Regulatory and Development Authority of India (IRDAI).
Mumbai-based Raheja QBE reported over 41,000 customers, underwrote 69,000 new policies in the financial year ended March 31, and had $60.5 million in total assets, according to its latest financial statements. Its gross written premiums in FY20 surpassed $20 million, growing over 35 percent, year-on-year.
Evolution into fintech leader
Even though Paytm started as an e-wallet and bill payments service loosely based on PayPal's model, the Noida-based startup has evolved into one of the most comprehensive payment apps, with all funding sources such as bank accounts, UPIs, cards, and wallets. 
"Our innovative technology such as Scan and Pay QR, online payments, and many others have ushered the growth of the digital payments ecosystem in India and has transformed the way India makes payments, manages businesses, or does investments," Amit says.
In the past few years, Paytm has also been moving into the consumer retail and on-demand space with an array of offerings such as bill payments, payment gateway, offline payments, and online ticket booking services, as it makes a beeline towards becoming India's first 'Superapp'.
But inclusive digital finance has always been Paytm's axiom, and that is well reflected in the products and solutions it offers through its digital bank Paytm Payments Bank, which crossed Rs 1,000 crore in deposits by over 57 million savings account holders as on April 22, 2020. 
In 2018, Paytm also launched its first wealth management product, Paytm Money, to make it easier for customers to invest in mutual funds – a financial instrument that has largely been wielded by institutional banks that charge excessive handling fees.
With smartphones and the internet steadily percolating into the societal fabric of the country, Paytm has a clear first-mover advantage in helping make access to finance easier. 
The tailwinds that Paytm witnessed during demonetisation has also helped it amass a loyal customer base, as has the company's rapid launch of a slew of innovative but simple financial services offerings aimed at the underserved who haven't had any access to financial services.
Also watch: Paytm Founder Vijay Shekhar Sharma on what it means to build for India, from India
Even amidst the COVID-19 pandemic, Paytm Payments Bank – which facilitated about 500 crore digital transactions worth Rs 4.6 lakh crore in FY20 – witnessed an accelerated increase in deposits, as more people embraced digital banking during the three-month-long nationwide lockdown that began in March-end.
In the post-COVID-19 world, Paytm has played a significant role in helping businesses and common citizens with services such as digital payments for all essential services, scan to order, cash at home, and COVID-19 insurance, among others.
Last month, Paytm significantly expanded its digital credit service called Postpaid to a large set of payment use-cases, including groceries, milk, and other home essentials from neighbourhood Kirana stores and also at popular retail outlets such as Reliance Fresh, Croma, Apollo Pharmacy, and Shoppers Stop, among others.
"What drives us continuously is driving the digital penetration of financial services within India," says Amit, adding that Paytm is focussed on "…solving for customer needs while providing the best user experience."
Also ReadPaytm extends postpaid services to kiranas, upgrades credit limit up to Rs 1 lakh
Also ReadPaytm records 4x growth in payments made to merchants during lockdownDigital financial inclusion
Today, with 100 million UPI handles, 220 million saved cards, 300 million wallets, and about 60 million bank accounts, Paytm offers one of the most comprehensive digital banking services and boasts an account holder and debit card holder in every district of India.
Paytm had also been distributing insurance for various players through its Insurance Broking platform, even before its latest acquisition. With the Raheja QBE deal, Paytm can now start manufacturing general insurance products that will likely cater to a tapestry of financially diverse individuals based on parameters such as incomes, flexibility, and risk profile, among others.
"We believe that, along with existing customers of insurance, we can reach new large segments due to our reach and our tech-led, low-cost customised solutions," says Amit of Paytm's latest buy.
Its competitive advantage of a wide and growing customer base that is used to purchasing financial products online could help put it ahead of larger rivals such as Coverfox and PolicyBazaar, as well as withstand challenges from traditional players that are increasingly going online these days, say industry analysts.
Earlier this year, One97 Communications said Paytm Insurance Broking Private Limited (PIBPL) secured a licence to sell life and non-life insurance from IRDAI. The company has already tied up with around in 20 leading insurance firms in India and said it would integrate with 30 more companies over the next few weeks.
According to data from IRDAI, gross premiums underwritten by general insurance companies declined 4.24 percent in the first three months of the current financial year, while gross direct premiums underwritten by non-life insurance players grew 7.83 percent to Rs 13,961.25 crore in June. 
Want to make your startup journey smooth? YS Education brings a comprehensive Funding Course, where you also get a chance to pitch your business plan to top investors. Click here to know more.
Original Source: yourstory.com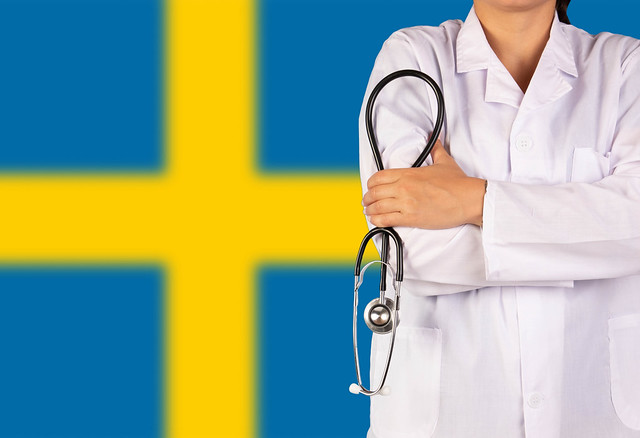 Sweden has the highest income tax rate in the world. More than 57% is annually deducted from people's incomes. However, Sweden placed seventh out of 156 countries in the World Happiness Report 2019, and its healthcare system is one of the best in the world.
In 1995, Sweden joined the European Union and its population recently reached over 10 million people. Healthcare is financed through taxes and most health fees are very low. Sweden operates on the principle that those who need medical care most urgently are treated first. Higher education is also free, not only to Swedes, but also to those who reside in the rest of the European Union, the European Economic Area, and Switzerland. Like healthcare, it is largely financed by tax revenue. Here are 10 facts about healthcare in Sweden.
10 Facts About Healthcare in Sweden
Sweden has a decentralized universal healthcare system for everyone. The Ministry of Health and Social Affairs dictates health policy and budgets, but the 21 regional councils finance health expenditures through tax funding; an additional 290 municipalities take care of individuals who are disabled or elderly. To service 10.23 million people, Sweden has 70 regionally-owned public hospitals, seven university hospitals, and six private hospitals.
Most medical fees are capped and have a high-cost ceiling. According to the Swedish law, hospitalization fees are not allowed to surpass 100 kr (Swedish Krona), which is equivalent to $10.88, a day and, in most regions, the charge for ambulance or helicopter service is capped at 1,100 kr ($120). Prescription drugs have a fee cap and patients never pay more than 2,350 kr ($255) in a one-year period. In the course of one year, the maximum out-of-pocket cost is 1,150 kr ($125) for all medical consultations. If the person exceeds the cap, all other consultations will be free. Additionally, medical services are free for all people under the age of 18.
The cost for medical consultations not only has a price cap, but is generally low. The average cost of a primary care visit is 150 kr-300 kr ($16-$33) and the cost of a specialist consultation, including mental health services, ranges from 200 kr-400 kr ($22-$42). The cost of hospitalization, including pharmaceuticals, does not exceed 100 kr ($11) per day and people under the age of 20 are exempt from all co-payments. Healthcare services, such as immunizations, cancer screenings, and maternity care, are also free and have no co-payments.
All dental care for people under the age of 23 is free. When a person turns 23, they no longer qualify for free dental health care in Sweden and must pay out of pocket. However, the government pays them annual subsidies, or an allowance, of 600 kr ($65) to pay for dental expenses. In Sweden, the cost of a tooth extraction is 950 kr ($103) and the cleaning and root filling for a single root canal costs 3,150 kr ($342). If dental care costs total anywhere between 3,000 kr-15,000 kr ($326-$1,632), the patient is reimbursed 50% of the cost. If it exceeds 15,000 kr, 85% of the cost is reimbursed.
To battle its large medical waiting lists, Sweden has implemented a 0-30-90-90 rule. The wait-time guarantee, or the 0-30-90-90 rule, ensures that there will be zero delay, meaning patients will receive immediate access to health care advice and a seven-day waiting period to see a general practitioner. The rule also guarantees that a patient will not wait more than 90 days to see a specialist and will receive surgical treatment, like cataract removal or hip-replacement surgery, a maximum of 90 days after diagnosis. Sweden's government also committed 500 kr million ($55 million) to significantly decrease wait time for all cancer treatments. In 2016, Sweden developed a plan to further improve its health services by 2025 through the adoption of e-health.
In 2010, Sweden made private healthcare insurance available. The use of private health insurance has been increasing due to the low number of hospitals, long waiting times to receive healthcare, and Sweden's priority treatment of emergency cases first. In Sweden, one in 10 people do not rely on Sweden's universal healthcare but instead purchase private health insurance. While the costs for private plans vary, one can expect to pay 4,000 kr ($435) annually for one person, on average.
Sweden's life expectancy is 82.40 years old. This surpasses the life expectancies in Germany, the UK, and the United States. Maternal healthcare in Sweden is particularly strong because both parents are entitled to a 480-day leave at 80% salary and their job is guaranteed when they come back. Sweden also has one of the lowest maternal and child mortality rates in the world. Four in 100,000 women die during childbirth and there are 2.6 deaths per 1,000 live births. There are 5.4 physicians per 1,000 people, which is twice as great as in the U.S and the U.K, and 100% of births are assisted by medical personnel.
The leading causes of death are Ischemic heart disease, Alzheimer's disease, stroke, lung cancer, chronic obstructive pulmonary disease and colorectal cancer. While the biggest risk factors that drive most deaths are tobacco, dietary risks, high blood pressure and high body-mass index, only 20.6% of the Swedish population is obese and 85% of Swedes do not smoke. The Healthcare Access and Quality Index (HAQ Index) also estimates that, in 2016, the rate of amenable mortality, or people with potentially preventable diseases, were saved at a rate of 95.5% in Sweden. The HAQ Index estimates how well healthcare in Sweden functions; the index shows that it is one of the best in the world.
Sweden's health expenditure represents a little over 11% of its GDP, most of which is funded by municipal and regional taxes. Additionally, in Sweden, all higher education is free, including medical schools. There are no tuition fees and a physician can expect to have an average monthly salary of 77,900 kr ($8,500).
In Sweden, 1 in 5 people is 65 or older, but the birth rate and population size are still growing. Because Sweden has one of the best social welfare and healthcare systems in the world, people live longer and therefore 20% of the population does not generate income or pay taxes from their salary. This dynamic stagnates social welfare benefits and slows down the economy. Increasing immigration and a rise in births are the two solutions to ensure that the younger generations will receive the same benefits. Swedish-born women have an average of 1.7 children and foreign-born women have an average of 2.1 children. In 1990, Sweden broke the 2.1 children fertility rate but quickly dropped below 2.0 in 2010. Since 2010, Sweden has seen an increase of 100,000-150,000 immigrants and has seen 45,000 citizens emigrate.
In 2018, Sweden reached its record highest GDP (PPP) per capita of almost $50,000. Despite having the highest taxes in the world, the living conditions and healthcare in Sweden are some of the best. With time, its population will continue to grow and the healthcare system will continue to advance.
– Anna Sharudenko
Photo: Flickr
The post 10 Facts About Healthcare in Sweden appeared first on The Borgen Project.
Original Source: borgenproject.org