Does your audience trust your brand? Do they engage with you in a positive way?
If your answers are yes to both questions, then you're one of the few lucky ones. Because the truth is, the consumer's trust in brands is very low – and it continues to fall. These are issues that many brands struggle with: gaining their audiences' trust and driving positive engagements with them both online and offline.
But luckily, every brand has an amazing asset that can help: their very own employees.
"A company's employees are its greatest asset and your people are your product"
Richard Branson
Employee advocacy is a tactic that is slowly gaining traction in the marketing world, with more and more brands leveraging their employees to promote the brand in all kinds of unique and exciting ways. And the results are often amazing.
One great example of employee advocacy comes from Johnsonville, a sausage company based in Wisconsin. For one of their advertising campaigns, they tried something completely unique: they asked all of their employees that were willing to participate to come up with ideas for the ads. Over 100 of their employees came up with ideas – and the best ones were turned into actual advertisements, like the Regular Speed Chase, by Brett:
Not only that, but they also created behind-the-scenes videos from when they were filming the ads and posted about the campaign on their blog and social media, including reactions from their CEO. With well over 1.5 million views generated just on YouTube, it's safe to say that the campaign was a huge success.
Other brands, like Starbucks, regularly leverage their employees to talk about their brand on social media. So much so, that they created accounts on most major social networks – Facebook, Instagram and Twitter – where their "partners" (aka their employees) can post updates regularly:

Starbucks Partners Instagram Page
Their accounts have accumulated over 500k fans and followers and they often drive very high engagement rates on posts.
There's a big reason why brands are increasingly using this tactic: people will always trust other people more than they will ever trust brands. Plus, your employees probably have a bigger reach than your brand does – and they're likely generating more engagement as well. In fact, a study from the MSLGroup found that brand messages shared by employees reached 561% more people than the same messages when shared via the brand's official social channels. Not only that, but they also see more engagement – 8 times more engagement than content shared by brand channels, to be specific.
And the thing is, it's quite likely that your employees are already posting content about your brand: 98% of employees use at least one social media site for personal use – and studies found that about 50% of them are posting updates about the company they work for (source).
So, the question now is, how do you get your own employees involved in your brand's marketing campaigns? How do you get them to contribute, engage and become an integral part of the company?
Start a Dialogue with Leadership
Before you go to your employees and ask them to participate, you first need to discuss this project with the executives in your company – not just the leadership, but all the various departments as well.
After all, you'll be using up some of their team's time to create content so you need to get all of the team leaders and department heads on board to establish:
Whether they can dispense any time and resources
How they can contribute
How much time they can spend on this project
Once you've got the go-ahead from everyone, you can start planning your employee advocacy program.
Develop Clear Brand Guidelines
Another essential step you need to take before your employees start posting any content is to develop brand and employee advocacy guidelines. Even better, provide some training – this way, your employees will know exactly what they can and can't post and how they can ensure they're in line with brand policies and guidelines.
Here's a great example from Humana, the health insurance providers:
Their advocates – aka their employees – can attend a training webinar to learn what they need to know. They call employees to use a specific hashtag whenever they post something about the brand. And they provide a resource where employees can find content to share on their personal profiles, as well as submit content for others to share.
Get Your Employees to Participate
Employee advocacy should never be mandatory since this isn't a part of their normal role. Making it mandatory will likely put off a lot of your employees which defeats the purpose of this campaign. Rather, you should simply invite them to participate if they want to:
Send a company-wide newsletter talking about your employee advocacy program and explaining how it all works
Make it as easy as possible for people to create and share content: use a centralized platform where everyone can share content and ideas, provide your employees with content they can share and suggest hashtags they can use
Consider offering free training for blogging, social media, and content creation to entice your employees to take part
Explain why they should take part and start sharing: what's in it for them? What's the incentive?
Offer Rewards for Employee Participation
One of the easiest and most effective ways to get your employees involved in your employee advocacy program is to offer them rewards for participating. After all, you need to make it worthwhile for them too – not just for your brand. A great way to do this and to encourage even more participation from your employees is to gamify the experience: offering rewards based on performance using leaderboards.
A great example of this comes from Cisco; their idea was to leverage summer interns to promote their brand on social media. In order to do this, they created a contest for all interns, whereby everyone could post updates on their social profiles using the #WeAreCisco hashtag – the intern who got the most engagement would win an Apple Watch.
You don't necessarily have to do a contest; there are numerous other ways you can encourage your employees with rewards:
Highlight top sharers and any employees who generate great results with their blog posts, social media content, vlogs and so on
Offer rewards such as coupons and gift cards for reaching certain milestones
Re-share your employees' best content on your brand's official channels to recognize their efforts
Increase Trust, Engagement and Sales by Leveraging Your Employees
Your employees can be huge assets for your brand – not just for the work they do for you, but also because of their huge marketing potential. In fact, they can be your very own micro-influencers and help you reach more people, increase trust in your brand, products and services, and help increase your sales.
To create a successful employee advocacy program, start by discussing this project with your company and department leaders. Then, develop clear guidelines and provide your future advocates with all the tools and resources they need to create and post content about your brand.
And finally, invite your employees to participate in your program and encourage them to start posting by offering various incentives and rewards.
The post Why You Should Involve Employees in Your Content Marketing Strategy appeared first on Alexa Blog.
Original Source: blog.alexa.com
With all the talk about landing pages in the digital marketing world, it's vital not to overlook the role of a website's homepage.
Your homepage is your virtual curb appeal, and it is essential to manage your curb appeal to keep visitors coming to your site for the best user experience possible every time.
There are a bunch of great homepage designs out there, and reviewing some of the best designs can help inspire you to create your own awesome homepage.
What Is a Homepage?
A homepage is a company's main webpage that people typically land on when they first enter a site from a search engine. The homepage often serves as the introduction a person may have to a company. Essentially it is a "virtual storefront."
Even if the homepage is not where people start, it is where they go when they need to navigate quickly or when they return to your site later.
Some companies try to get visitors to sign up for an account or email list to encourage them to learn more about their products and services so they eventually become customers.
Even if a visitor doesn't sign up, you should create your homepage in a unique and memorable way so that you leave a lasting impression on them.
Benefits of a Well-Designed Homepage
A great homepage is meant for more than just looking aesthetically pleasing, even though that is a part of it. There are lots of other benefits that follow the looks.
Here are just a few:
It Increases Brand Awareness.
If you make your website memorable, then it will be that much easier to generate returning visitors and brand buzz.
Your brand image and values should be obvious through the messaging of every page on your site, especially the homepage.
The homepage is the door to the rest of your site and everything that will inform your visitors on your value, offers, products, and background.
Without it, no one will be able to identify who you are or why you own your position in the market.
It Improves the User Experience.
A well-built homepage usually translates into an easy interface that visitors have no sweat navigating. By providing access to the information that they're looking for in an organized fashion, you're providing them with value right out the gate.
Visitors definitely take notice of their user experience and it carries a lot of influence over their purchasing decisions. Play off of that psychology by building a homepage with that in mind.
It Boosts Conversions.
As frustrating as it may be, you need to make a great impression in order to convert visitors. They're looking to see value and trust, which, as marketers, translates to presenting them with incentive and opportunity.
If you make it easier for them to get what they need on or through your homepage, then you'll have a much easier time boosting your conversion numbers.
A sloppy or unattractive homepage usually only results in a high bounce rate.
Important Elements on a Homepage
Of course, as creative as we'd encourage you to be in your homepage design, there are certain elements you'll want to incorporate so that it really packs a punch.
It's like a puzzle. Every picture looks different in the end, but you still need the pieces to put it together.
An Effective and Evolving Design
A great homepage is going to be effective in meeting all the key points we've discussed so far: communicate value, build trust, assist visitors, and attract buzz.
To achieve all of that, you'll want to use a combination of different strategies. Incorporate CTAs, whitespace, a great style guide, and excellent copy to create a fantastic layout.
It's also important to be adaptable and evolving as time goes on. Static homepages usually become outdated pretty quickly. Change the page as the needs of your visitors and trends of the market change.
Omni-Channel
An easy to navigate desktop homepage isn't the final goal. It's important to be mobile-friendly as well.
Too many graphics or complicated designs and features have a tendency to get convoluted and messy when they're opened on different platforms. Make sure to optimize your page for mobile use, which is incredibly popular in today's world.
Caters to Audience Appeal
Your homepage is not meant to be a widely casted net. Keep your buyer personas and target audience in mind when building the page.
It needs to be focused on the type of customer that you can best serve and who have the highest chance of converting. Eliminate any fluff and use language that will attract and appeal to your preferred audience.
Value-Focused Content
By being value forward on your homepage, you have a higher chance of keeping visitors on your site than trying to capture their attention on a deeper landing page or blog post.
That's not to say you can't bring in traffic or convert on those pages, but, typically, your homepage is the first point of contact for traffic. Show them right off the bat that you've got what they're looking for and they'll stick around long enough for you to prove it instead of going to a competitor.
30 of the Very Best Homepage Design Examples
There's plenty of inspiration on the web to draw ideas from. Some homepages are breathtaking and visually unique. Others are tremendously functional and deliver on their promises immediately.
It all depends on their (and your) business style and brand appeal.
Let's look at some amazing examples right now:
1. Airbnb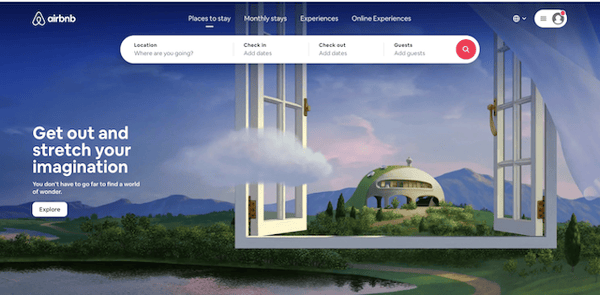 Airbnb's brand has seen better days, but its homepage design has never been better. Minimalism is often a sign of a modern homepage that communicates quickly and provides great mobile experience.
In just one sentence, Airbnb draws you in and gets you ready to start searching its site. Breathtaking visuals evoke a spirit of exploration users with wanderlust are sure to love.
2. Dropbox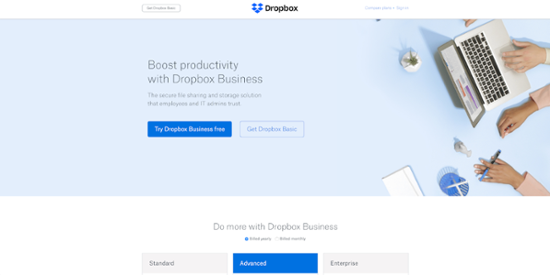 Dropbox has been described as the company everyone is trying to kill. Its homepage design is no doubt one of the things that's made it resilient: In less than 20 words, it tells you everything you need to know to get started with its solutions and how you stand to benefit.
Those looking for complex or custom solutions can scroll on to a snappy side-by-side comparison.
3. TED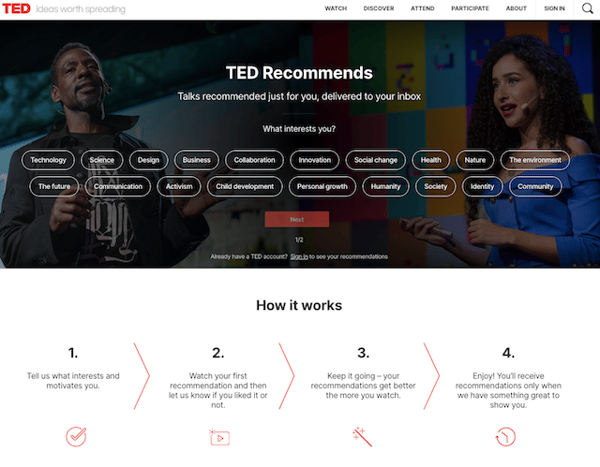 TED encompasses many different subjects and has a giant library of informational videos and articles. Their homepage puts everything on the line right away so that users can select what they are interested in without delay.
They have a clean design with a nice hero image of two of their speakers on the left and right of the image. TED also lists simple steps describing how to use and benefit from their platform.
4. Medium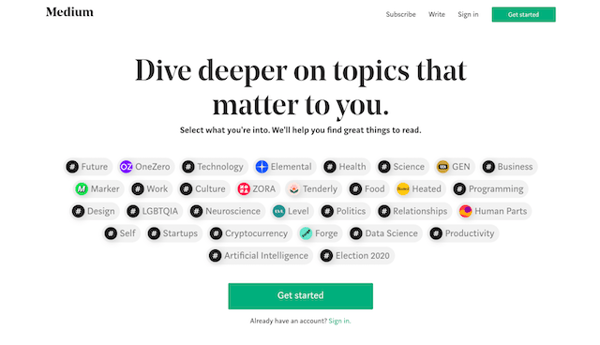 Medium is a publishing platform that has attracted thousands of would-be thought leaders, as well as many established voices.
Although it bucks convention by leaving its value proposition halfway down the page, by the time you get there you've almost certainly been hooked by one of the many magazine-like articles on the ever-changing, curated space above the fold.
5. KIND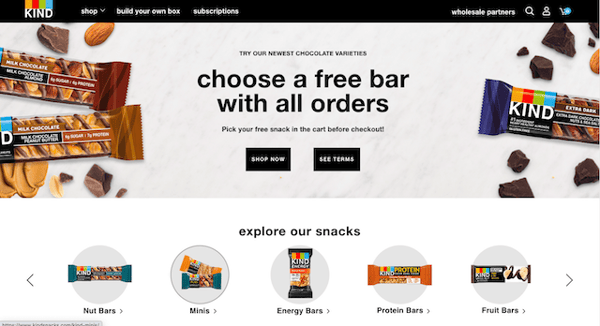 From total obscurity and dismal performance, KIND Snacks have burst onto the scene with some of the strongest branding around.
KIND invites you to jump in and start shopping for healthy snacks in the banner. The traditional top navigation is all but replaced by image-driven product categories. Bright colors and promotional copy says "free", and who can resist free snacks!
6. REI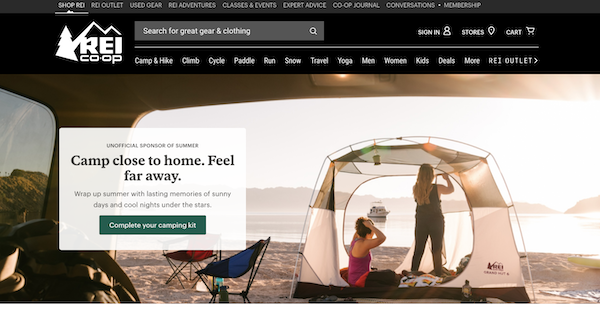 REI has made its name in two ways: As a top supplier of outdoor gear and a leader in related content.
REI's key goal is to drive membership in its co-op, and this is reflected everywhere in the customized CTAs and image panels. Customers who have no interest in all that also instantly see the online store's thirteen major product areas.
7. Zenni Optical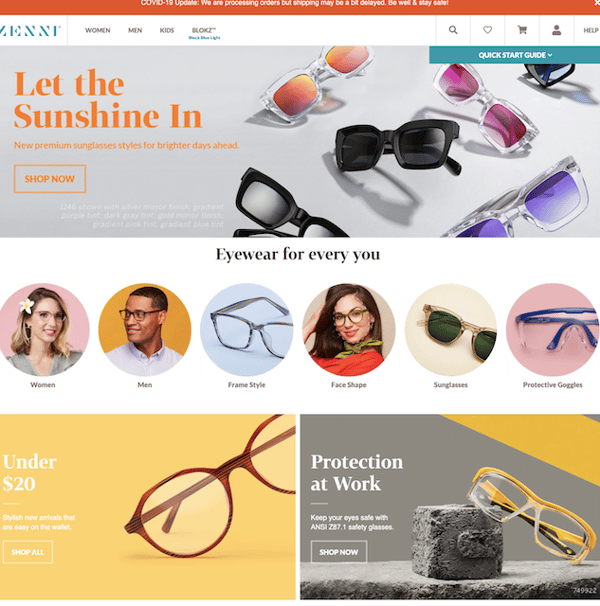 Zenni Optical thrives on personalization and offers a chic, yet cost-effective alternative to stores like Lenscrafters.
As you'd expect, its homepage design thrives on the visual: stylish glasses everywhere and icons for each category of glasses. Their copy is cute and clever with the headline, "Let the Sunshine In".
8. Udemy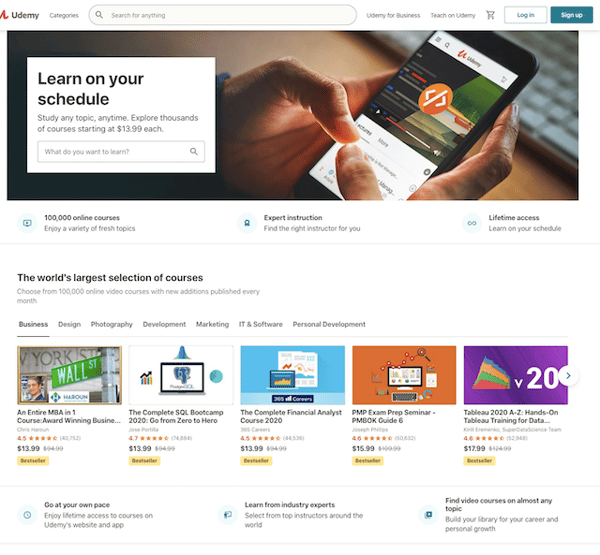 Udemy specializes in online video courses developed by independent experts. The homepage underscores its selling point – convenience – while orienting customers to the huge library of material.
With a customized list of general topic areas at the top and an ever-evolving list of personalized course recommendations below the banner, this page is magnetic.
9. Amazon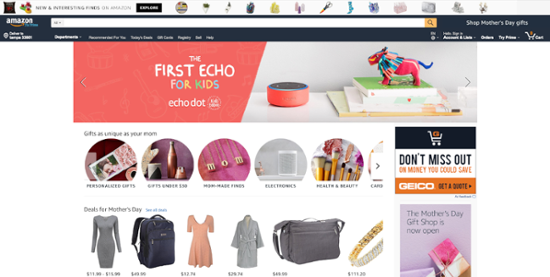 Amazon's homepage design is a result of years spent crunching terabytes of data. The goal: To create a compelling ecommerce experience that gets people browsing even when they don't plan to buy.
With offers and even entire design elements customized to user behavior, it's almost impossible to visit without seeing something you're interested in.
10. Netflix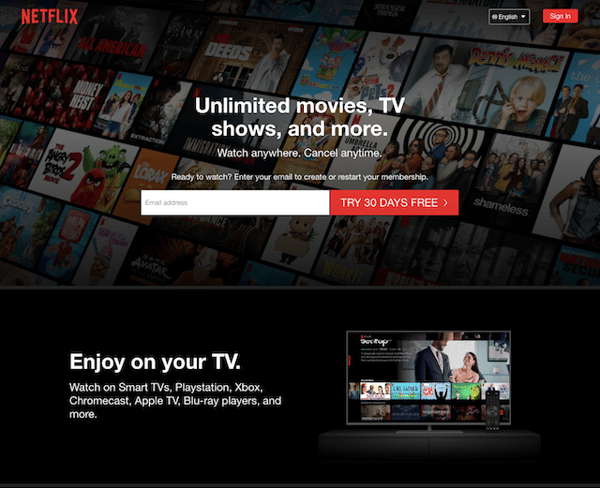 The Netflix homepage design positions the brand as the #1 alternative to traditional movie-going in just a few words!
Its bright, eye-catching "Try 30 Days Free" button is a world-class CTA example. New users interested in learning more – and those with common objections – can find out everything they might want to know in three minimalist, yet highly visual page segments.
11. Etsy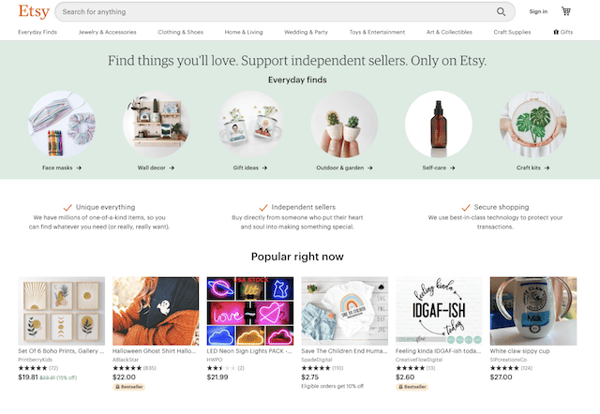 Etsy is a site where independent merchants, many of them crafters, can display and sell unique wares.
The header image orients users to the hottest site-wide offer. Just beneath, new users learn the basics of the site in three quick headers. It's hard not to get pulled into the ever-rotating "Popular Right Now" items – and that's certainly intentional.
12. Nike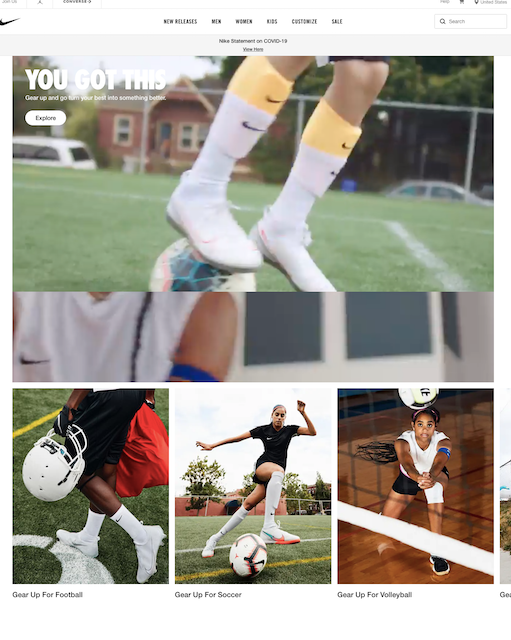 Nike is one of the most recognized brands in the world, so its homepage design won't waste time on a bunch of details you already know.
You can reach any category of Nike shoe in just one click, so most people won't spend much time on the homepage. Those who do will find exciting, ultra-visual hooks for products dedicated to any sport.
13. Chipotle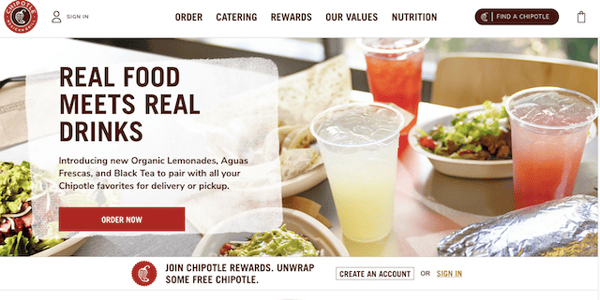 Chipotle has some heavy lifting to do to maintain its value-driven "food with integrity" brand.
With its current homepage design, it's on the right track. The food remains the star, but an unobtrusive, yet effective ticker has been added to the top of the page to drive their real food and drinks campaign for delivery and pick up.
14. Oscar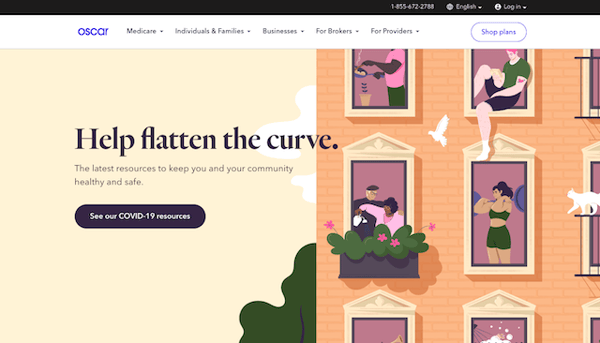 Health insurance is by no means a fun topic, but the homepage for Oscar makes it more humane and personable – starting with the URL itself ("Hi Oscar.")
Everything from the art style to the clever use of whitespace is intended to make a daunting topic simpler. The copy underscores this with concepts about the COVID-19 crisis.
15. A24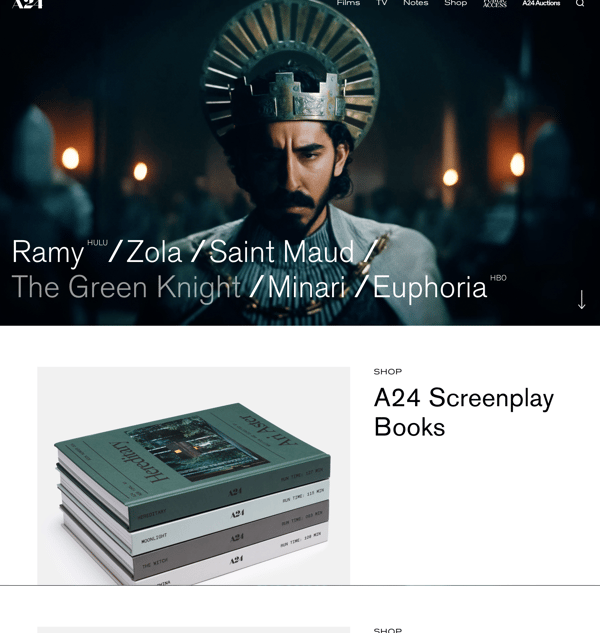 A24 has been kicking butt over the last few years with their films, and they take the opportunity to showcase it on their homepage.
Composed of trailers for their new projects, behind the scenes notes of popular movies, and a fun shop, the production house does a great job of meeting visitor expectations.
16. Slack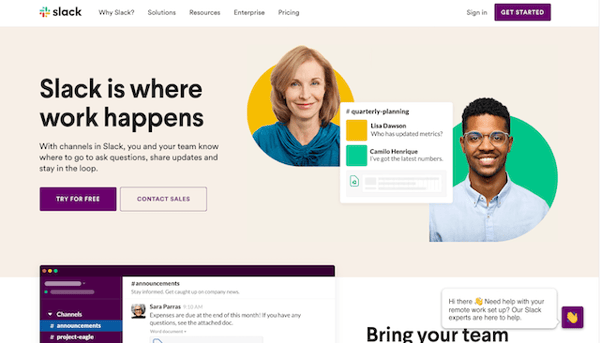 The Slack homepage sticks to its unique style guide with a clever mix of colors and illustrations. The messaging on the page is pretty straightforward, "Slack is where work happens."
It's clear what visitors should do next — sign up or sign in. There's a pretty comprehensive nav bar as well, helping visitors explore as they dive a bit deeper.
17. Nescafe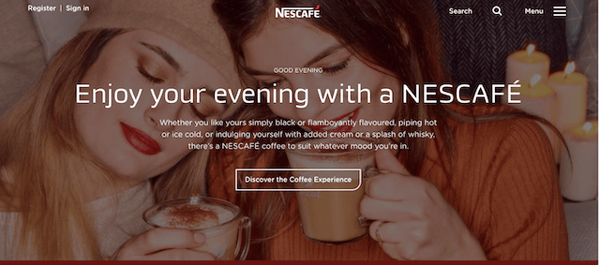 When you think of coffee, you probably think of cozy coffee shops and disposable cups. But Nescafe is made right in your home with the people you love.
Their large hero image on their homepage features candles, two girls in fall clothes, and glass mugs with coffee foam and cinnamon gives visitors a warm feeling from the moment the enter the site.
Their copy states that they have coffee for all of your moods, and they have a great CTA that invites users to "Discover the coffee experience." Their word choice pins them as a premier leader in coffee.
18. Nest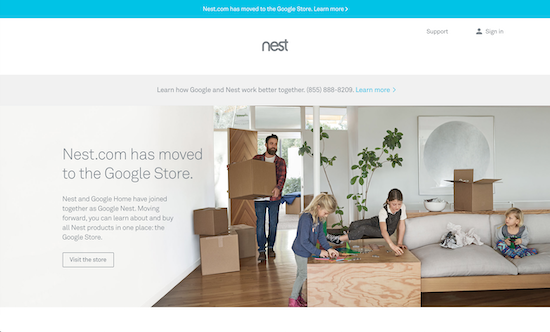 Nest's homepage is a bit different from the others. As you can see, Nest has moved its site to the Google Store. And while that may seem like a bit of a misdirection, it's actually genius.
Instead of confusing current customers by taking down the homepage entirely, they take the time to inform visitors of the change and redirect them to the official store. On top of that, check out the tiny navigation in the upper right corner.
Customers can still sign in or find support on this page if necessary. Talk about a great user experience.
19. 4 Rivers Smokehouse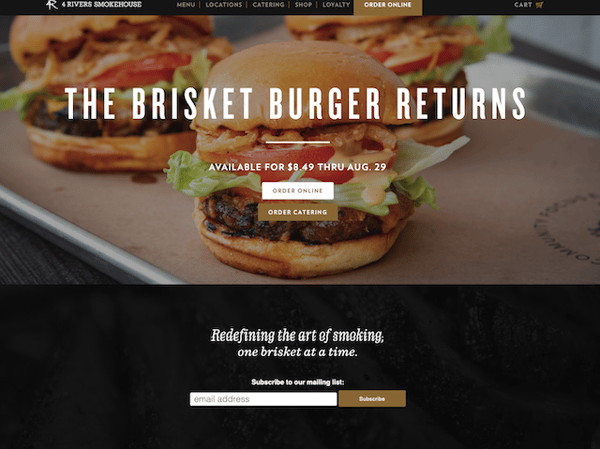 Want to learn how to showcase your products? Take a page out of 4 Rivers' book.
They highlight their new menu items front and center, making visitors' mouths drool the moment the page loads. The CTAs are pretty clear and engaging as well. Go ahead and order your meal online or look into catering.
20. Evernote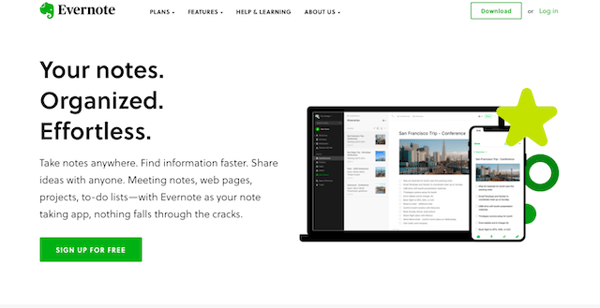 Evernote is another great example of a homepage that has brand awareness at the center. Known for its simple note-taking features, the homepage expands the scope of that reputation showing how the app has become an entire organizational suite.
It has a pretty, clean nav bar and a color scheme that pops, but it isn't too harsh – an excellent effort by a well recognized brand.
21. Swab The World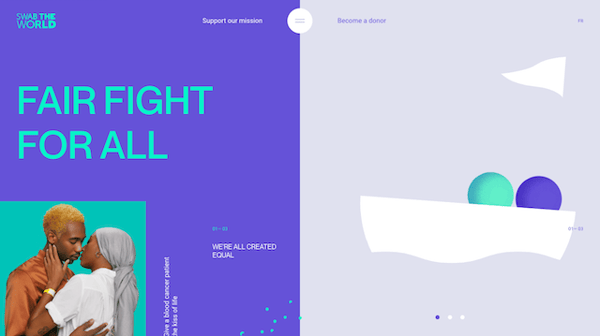 Swab the World is a website that is trying to bring awareness to stem cell donation diversity. They showcase a unique and modern homepage that explodes with bright purple and teal.
They have powerful but simple copy that is relevant to their cause, and it helps pique the interest of their visitors. They even won The Site of the Day Award on Awwwards in 2020.
22. Green Mountain Energy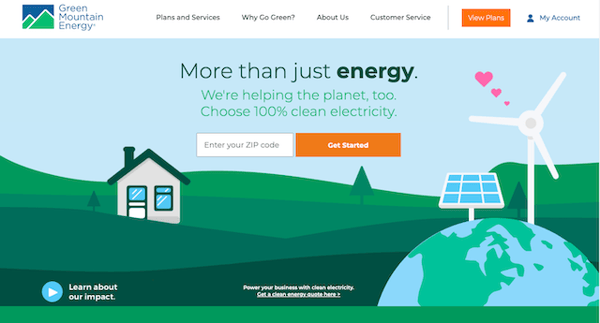 Green Mountain Energy has a beautifully designed homepage with a custom illustration that perfectly displays what the company does. The homepage is not cluttered and has simple copy that compels visitors to learn more about clean energy.
They even have a link to a video that describes what their impact is on the planet.
23. Century 21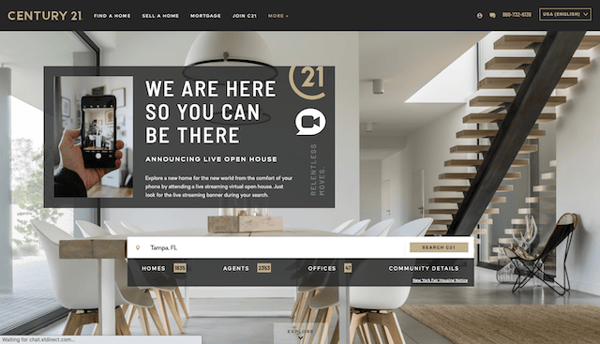 Century 21 has a homepage that would make anyone want to search for a new home using a real estate agent. It's sleek and modern design is visually appealing, and it has everything visitors need to navigate the site and find what they're searching for.
The search bar automatically tracks the visitor's location to search for homes in their area.
24. United Healthcare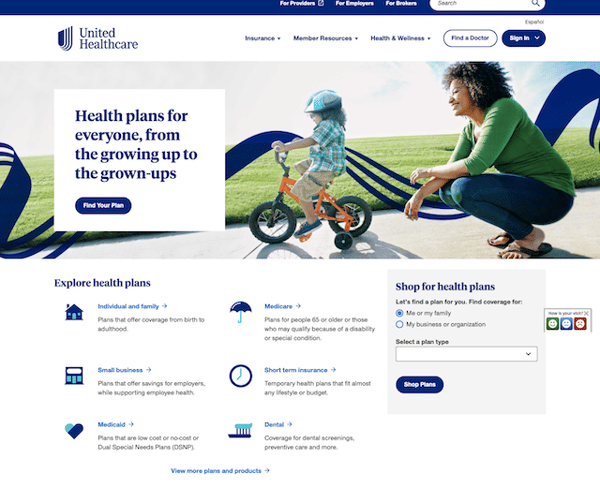 United Healthcare has a clean and informative website design with several CTAs for people to click on to learn more or find what they need. The hero image shows a happy mom and son in the park with copy to the left that mentions that they have health plans for everyone young and old.
Through this homepage, visitors can find a doctor, search for plans, and explore a variety of healthcare categories. Visitors don't have to navigate through the whole site to find what they need. This contributes meaningfully to user experience.
25. Shademaster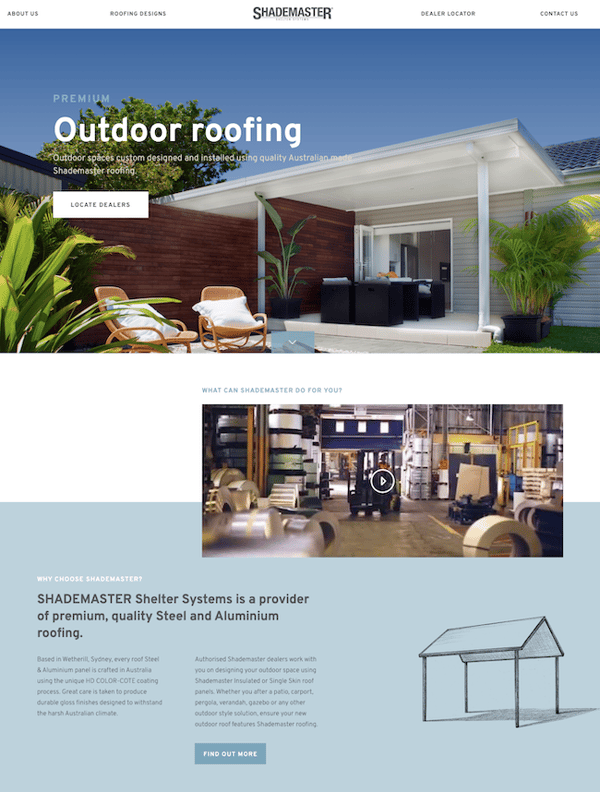 Shademaster is an Australian company with a fantastic homepage that won the best UX design through the CSS Design Awards. Their website features a fresh and modern template with beautiful images and a short video that explains how a Shademaster can benefit their customers.
They also have a navigation menu that follows users as they scroll so at any point while they are looking at the website, they can select something from the menu bar instead of having to scroll all the way back up.
26. CocoKind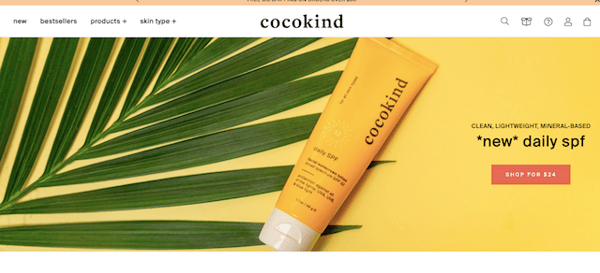 Cocokind makes a bold statement with their bright hero image on their fantastic homepage. They have a simple design with clear CTAs and a well-designed navigation bar. The navigation bar includes dropdown menus with several categories that you can see right away.
Cocokind's navigation also has product pictures of popular items featured on the navigation menu that users can click on to go straight to that specific product. This way, they don't have to spend time browsing.
27. Spinx Digital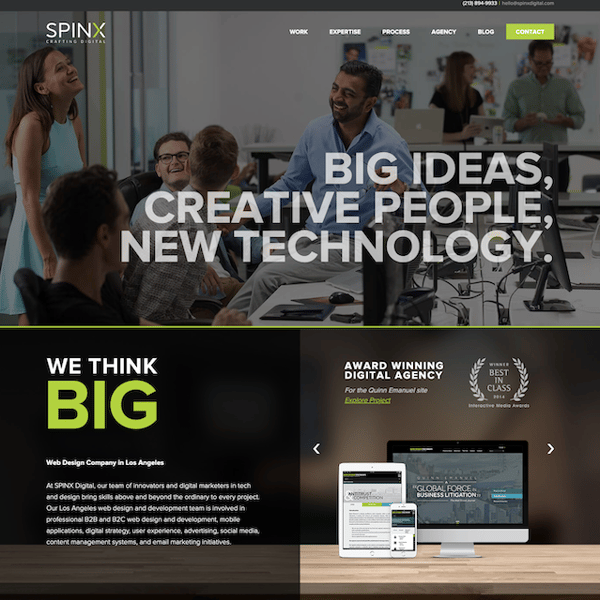 Spinx has an awesome homepage that segments different topics well to keep the page de-cluttered and easy to scan. They have a nice hero image of a workplace and people talking that gives their homepage a friendly vibe.
The best thing about their homepage is that they show icons of companies they've worked with, and they provide a whole section that describes their areas of expertise. This way, prospects learn everything they need to know about your company from one page.
28. Fig and Yarrow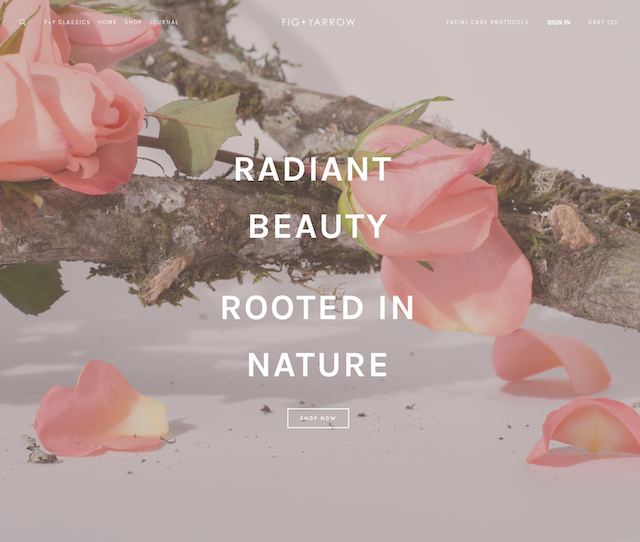 Fig and Yarrow has a beautifully designed homepage that sets the tone for its natural skincare products right away. Their main background image is subtle and offers a nice color palette for the page. They have simple copy that explains what they do with a clear CTA right underneath.
This site uses excellent whitespace and makes it easy for users to find just what they need.
29. Gymshark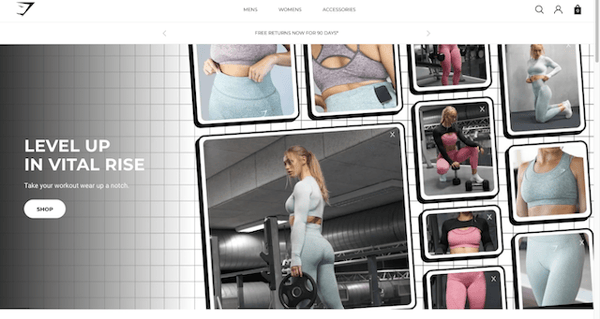 Gymshark has risen in popularity in the past few years and is now a top sports and workout wear contender. Their homepage features several beautiful pictures of their workout gear to the right.
Essentially, Gymshark has a simple homepage that is attractive just like their workout gear itself.
30. Stack Overflow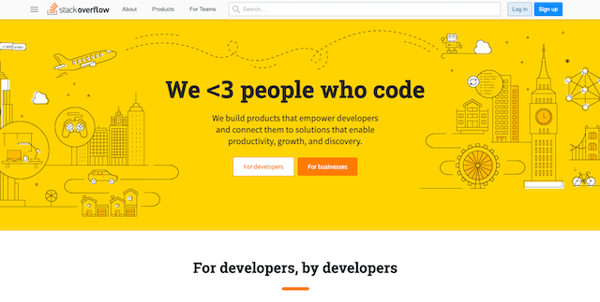 Stack Overflow has an eye-catching homepage that includes impressive illustrations on their hero image when a user first enters the site. They have a clear search bar and several CTAs that help to lead people in the right direction.
This homepage lets users know exactly what Stack Overflow does and how they can help their visitors within a few lines of copy.
Your homepage can do a lot for you when it comes to boosting your brand awareness and converting new customers. You'll want to give it all the love and attention you can.
And, thankfully, you have some pretty great examples to follow after.
Original Source: bluleadz.com