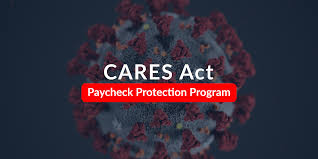 The Paycheck Protection Program (PPP) has an aggressive timeline and applicants are struggling to understand how the process works; the confusion specifically revolving around the new and expanded definition of "payroll costs," which will be used to calculate the maximum loan amount you can receive.
Original Source: blog.bernardbenefits.com
The mortgage industry (and interest rates) have a somewhat complicated relationship with the rest of the overall economy. Generally speaking, when the economy is doing very well, the Federal Reserve will start raising interest rates. This can help to try and ward off inflation which is not great for the economy. Conversely, when overall economic conditions are poor, the Federal Reserve will LOWER the interest rates, in an attempt to spur economic growth. Since the interest rates on most mortgage products are (directly or indirectly) tied to the overall Federal Reserve interest rate, these actions have a pretty significant impact on mortgage interest rates.
Mortgage rates can fluctuate daily or even hourly, so it's good to have a basic idea of what you want to do and what might make you want to refinance. With mortgage rates at historic lows, let's take a look at what that means and whether you should refinance while rates are low.
Mortgage rates are at historic lows
The mortgage market is a fairly complicated market with several different types of mortgages available. So when you hear that mortgage rates are at "historic lows", it's important to understand what type of mortgage is being talked about. Usually, the 30-year fixed mortgage is the loan product that is considered the "standard" mortgage. So if you hear about rates "dropping", you're usually hearing about the 30-year fixed. It is true that usually (but not always!) rates for different types of products rise and fall together.
(SEE ALSO: What is a "Good" interest rate?)
It was not uncommon in the 1970s or 1980s to see mortgage rates with double-digit interest rates. Since that time, interest rates have generally steadily dropped, to a low around 3.5% in 2012. Mortgage rates fluctuated in the 3-4% range for the next several years before rising to around 4.5% in 2018 and 2019.
The recent coronavirus pandemic has affected the housing market and sent rates on the 30-year fixed mortgage down under 3.5%, around the lowest those rates have ever been.
Should you refinance to a 30-year mortgage?
As the name implies, a 30-year fixed mortgage will lock in your interest rate for the duration of your loan. You'll have 360 monthly payments, all of the same amount. The exact amount you pay will depend on the amount of your loan, the duration and the interest rate. You can use our Loan Repayment calculator to find out the exact amount of your monthly payment. Keep in mind that that monthly payment amount will not include your property taxes or home insurance. Your lender may require that you set up an escrow account, or else you'll need to make sure to budget for those expenses on top of your monthly mortgage payment.
The 30-year fixed mortgage will usually give you your lowest monthly payment. In fact, even if you currently have a 30 year fixed mortgage, you will likely save on your monthly payment by refinancing now. That is because of 2 reasons – the rates are likely lower than when you first got your mortgage and because you've paid down your mortgage balance so the amount you're refinancing is less.
Should you refinance to a 15 or 20-year mortgage?
Another option to consider when refinancing is to refinance to a 15 or 20-year mortgage. A mortgage with a shorter term (like 15 or 20 years) will usually have a lower interest rate than the 30-year fixed mortgage. However, because the shorter term means there are fewer payments, your payment may still go up.
If you're currently on a 30-year mortgage, you'll likely (but not always) find that the monthly payments on a 15 or 20-year mortgage will be higher. The good news is that your mortgage will be paid off 10 or 15 years sooner! Overall you'll pay quite a bit less in interest.
An example of refinancing to a shorter-term mortgage
To illustrate the types of choices you have with refinance, let's look at an example. Our fictional homeowner bought her house 5 years ago with a mortgage of $250,000, and took out a 30 year fixed mortgage. Her monthly principal and interest payments have been $1,267 per month, and after 60 payments, her mortgage balance is now $228,305.36 with 25 years remaining.
She's looking to refinance with today's low rates. We'll say that her closing costs will make her new loan payoff amount $230,000. Again using our Loan Repayment Calculator, here are some options she could consider:
A 30 year fixed loan at 3.5% – monthly payments would be $1,033.
A 20 year fixed loan at 3% – monthly payments would be $1,276.
A 15 year fixed loan at 3% – monthly payments would be $1,588.
You can see that refinancing to another 30-year mortgage would drop her payments by $234 each month. That comes at a cost of adding 30 more years to the total time it takes to repay. With a 20 year loan, her payments only go up $9 per month but she shaves 5 years and tens of thousands of dollars of interest over the course of the loan. A 15-year loan would pay even less interest but at a cost of increasing the mortgage payment by $321 each month.
Of course, every situation is different but hopefully, this can serve as a guideline to help you as you make your own decisions about refinancing.
The case against refinancing
Even though mortgage rates are at historic lows, refinancing is not right for everyone. Here are a few cases where it might not make sense to refinance, even if today's interest rates are lower than the rate on your current mortgage:
You're not sure if you'll be in your home long term. Refinancing does come with some upfront costs, and if you won't be in your home long enough to pay them back, it might not make sense
Your credit score or financial situation has taken a recent hit
You want to take advantage of some of your home's equity with a home equity line of credit.
You don't have enough money to pay the upfront closing and other costs associated with a refinance. If this is the case, see if it might make sense to roll those costs into your new loan.
For even more information about the pros and cons of refinancing, check out our list of 8 refinancing tips
The post Should You Refinance Your Mortgage While Rates Are Low? appeared first on MintLife Blog.
Original Source: blog.mint.com
Find an undesirable Credit Auto Loan in Canada. Leave A reply cancel answer There are many choices to consider, your neighborhood bank, your insurance carrier, bad credit financing solutions, and peer to peer lenders. If you're a current consumer, your neighborhood bank is the very first stop because it is much more likely that their […]
The post Find an undesirable Credit Auto Loan in Canada. Leave A reply cancel answer appeared first on Adotas.
Original Source: affpo.st
chee gin tan/Getty Images
For parents, buying life insurance is a no-brainer — if you died unexpectedly, your life insurance payout would take care of your kids' needs.
For a married person with no kids, like me, you might not think life insurance is necessary. But my husband and I both have term life insurance policies.
The main reason we have life insurance is because both of our incomes factor into our financial planning — if one of us died, the other would struggle financially. Life insurance protects us.
A good, general rule of thumb to follow if you want to figure out whether or not you need life insurance is this: have kids, get life insurance.
Policygenius can help you compare life insurance policies to find the right coverage for you, at the right price »
That's because the purpose of life insurance is to protect your beneficiaries against financial hardships they may face if something happened to you. If you're single and childless, there's probably no one who financially depends on you and the income you earn.
While there's no doubt your loved ones would emotionally suffer if you died, they would not face a financial hardship due to your death. Children or anyone who is financially dependent on you, however, especially as minors, cannot financially provide for themselves.See the rest of the story at Business Insider
NOW WATCH: A cleaning expert reveals her 3-step method for cleaning your entire home quickly
See Also:
The average HELOC interest rate by loan type, credit score, and stateA jumbo loan is bigger than the typical mortgage, and it's harder to get oneHow to get a student loan for college or grad school

Original Source: feedproxy.google.com
A mortgage is a loan given by banks (or other financial institutions) to those who plan to purchase a home. There are many types of mortgage loans available, depending on your financial health and how long you want to pay the loan back. The amount you're allowed to borrow — as well as the interest rate — can vary depending on your credit history and the market.
It's important to know all the mortgage options you have available, including key terms you're bound to hear when approaching potential lenders. You'll be making payments on this home for the next 15 to 30 years, after all, so understanding what you're signing is crucial to ensure you're making the best decision for your future.
After you've saved enough for a down payment, read up on the next steps in the process to help boost your financial health. Below, we've put together a guide on what a mortgage is, including the ins and outs of the type of loans you'll get to choose from.
Table of Contents:
How Does a Mortgage Work?
The Main Parts of a Mortgage
Types of Mortgages
How Does a Mortgage Work?
Under a mortgage agreement, the bank, credit union, or other lender lets the customer borrow money to purchase a home in exchange for monthly payments with a tacked on interest rate. The "mortgage" itself refers to the lender's ability to take back the home if the borrower misses payments, also known as a collateral loan. While the buyers technically own the home, the lender has the power to cash in on the collateral of the home if the buyer defaults on payments.
Parties Involved
The two main parties involved in a mortgage loan are the lender and the borrower. A lender is a bank or other financial company that lends out money to customers to help them make larger purchases such as a car or home. A borrower refers to the individual(s) that will be borrowing money from the lender and paying it back over a set period of time.
The Main Parts of a Mortgage
There are various factors and real estate terms that get thrown around when discussing a mortgage. Some of the most important sections within a mortgage loan are the principal, interest, insurance, the length of the loan and taxes. Below, we break down the unique terms you might come across as well as the mortgage loan basics.
Principal
The principal is the dollar amount owed on your mortgage, usually noted in both the total amount as well as monthly payments on your loan. For example, if the house is for sale for $230,000, and you put down 20 percent ($46,000), you would need to take out a loan for the remaining principal amount of $184,000.
Interest Rate
The interest rate is the percentage that you owe the lender for borrowing the money, on top of the original principal amount. Mortgage interest rates currently average around 4 percent, but can reach as low as 2 percent on shorter loans or for borrowers with a good credit score and robust credit history. You'll often see interest rates marked on loans as APR (annual percentage rate) which adds in other borrowing costs outside of the principal interest. As this rate is required on all loans, you can compare APR's on multiple mortgage offers to make sure you are taking advantage of the best deal.
You can help get this interest rate lowered by taking advantage of mortgage points. This process allows you to make upfront payments to your lender for a reduced interest rate that spans the life of your mortgage loan. To get one mortgage point, you have to pay 1 percent of your total mortgage up front. And while costly, these points can help save you money over the length of your loan by lowering your monthly interest rate.
Insurance (PMI)
Typically, there is a portion of the loan agreement that discusses mortgage loan or private mortgage insurance, as the lender will want to be financially protected in case you aren't able to make your payments. This is more common for borrowers with low credit scores or those who weren't able to put down at least 20 percent of the cost upfront.
Taxes
In some states, there are taxes you need to be aware of when moving forward with a mortgage loan. Property taxes are set by your local government (and sometimes your state government as well), and are grouped along with your hazard insurance and can be escrowed.
A mortgage recording tax is a one-time fee charged in all 50 states. You can expect to see additional charges (on top of the recording tax) during closing in the following states: Alabama, Florida, Kansas, Minnesota, New York, Oklahoma, and Tennessee.
Promissory Note
A promissory note is a written agreement of payment between two parties. It's the legal document that you sign when getting a mortgage loan, and it includes how much you will pay the lender each month and for how long. It also documents the next steps if the borrower isn't able to pay, which is also known as defaulting on a loan.
Mortgage Amortization
Mortgage amortization is the process of splitting up the principal and interest amounts owed into equal payments over the length of your loan. While the amount of money that goes towards your interest and principal varies over the length of your loan, this process ensures that your overall monthly payment is the same. For example, at the beginning of your loan, most of your monthly payments will go towards interest. However, over time you will owe less interest and the majority of your monthly payment will go towards the principal.
Escrow
Traditionally, escrow refers to the securing of the transaction when buying a home. The buyer transfers money to an escrow company while the homeowner does the same with their property. By taking each asset to a reliable third party, the transaction is secured while final inspections are made.
When getting a mortgage from a lender, an escrow account refers to the amount of money your lender takes from your monthly payments to pay for home insurance and other taxes on your behalf (this payment is not always required). In addition to taking money each month, most lenders will require upfront payment to cover several months (sometimes as many as six months) before they will move forward with the mortgage loan.
Types of Mortgages
There are a few options to consider when looking at the type and length of mortgage loan to move forward with. There are 15 and 30-year mortgages as well and fixed and adjustable interest rates to consider. Below, we break down the types of mortgages to help you make the best decision before signing a loan.
Fixed-Rate Mortgage
A fixed-rate mortgage is a mortgage loan whose interest rate is permanent throughout the entirety of the loan (no matter if it's a 10- or 30-year loan). While fixed-rate mortgages mean there won't be a spike in interest if market rates increase, it also means that borrowers must refinance to take advantage of lower rates. Fixed rate mortgages are the least risky of all loans and a 30-year fixed mortgage is the most popular loan type used.
Adjustable-Rate Mortgage
Adjustable-rate mortgages (ARM), also called floating or variable rate mortgages, have interest rates that will fluctuate according to an index (such as the LIBOR) lenders and their margin rate. Typically, these rates will change yearly from the time of signing. Often, ARMs have annual and lifetime caps, meaning the change can't be too drastic from year to year.
ARMs are structured with an initial rate set for a predetermined amount of time, ranging from one to ten years. Generally, the longer the time frame, the higher your short-term fixed interest rate will be. After this time frame has passed, the rate will change each year. While this allows you to take advantage of a lower interest rate in the beginning of your mortgage loan, there is more risk involved later on when the interest rate begins to fluctuate.
Should I Get a 15- or 30-Year Mortgage Term?
Understanding your financial health and plans for the future can help you determine what length of loan would work best for you. While there are many different loan lengths, a 15- or 30-year mortgage loan is most common.
A 15-year loan allows you to pay off your home sooner with higher monthly payments, while 30-year loans offer lower payments for a longer period of time. The downside to 30-year loans is that you'll be paying significantly more interest than a 15-year loan, even though the overall payment each month is lower.
The flexibility of mortgage types, interest rates, and lengths allows people of all financial backgrounds to find the mortgage loan right for them. However, understanding the details of your legal agreement can help ensure that you make the best and most realistic decision for your future. After all, proper financial planning doesn't just include monthly payments. It also includes saving up for repairs, accidents, and managing your expenses. But by keeping all these factors in mind, you can set yourself and your family up for success for years to come.
Sources: Federal Trade Commission
The post What Is a Mortgage? appeared first on MintLife Blog.
Original Source: blog.mint.com