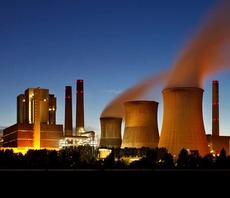 The coal industry's biggest cheerleader is about to be ousted from the White House and now leading infrastructure players are pledging to no longer provide infrastructure for coal fired power plants
The long term outlook for the coal market has been gloomy for some time, but in the past week the full scale of the existential threat facing the sector has been hammered home on multiple fronts.
President Trump famously failed to deliver on his promise to end the war on coal. He may have rolled back environmental regulations on the sector, but he could not negate the competitive pressures on the US coal industry from low cost renewables and gas. Coal company bankruptcies continued under the Trump administration and the US famously shuttered more coal power capacity under Trump's first term than it did under Obama's second term. But Trump did attempt to throw a lifeline to the embattled sector. President-elect Joe Biden has made no such promises and instead talks openly of multi-trillion dollar clean energy investment and a transition away from fossil fuels. The coal industry is arguably the biggest loser from Biden's victory.
And Presidential disapproval is the least of the industry's problems. The past week has seen a wave of coal divestment and withdrawal announcements from prominent infrastructure and investment firms, providing further evidence of the coal sector's increasingly precarious position in the minds of investors and business leaders.
In the past few days engineering giants Siemens and Toshiba have pledged to stop building components for new coal-fired power plants, joining General Electric and Black & Veatch as companies that have recently confirmed they will end their investments in the coal sector. Meanwhile, South Korea's largest conglomerate, Samsung Group, announced it would stop all types of funding for coal projects made by its insurance and investment businesses, delivering a further blow to the ailing sector.
As Toshiba president Nobuaki Kuramatani put it, players across the energy sector supply chain are gearing up for a major paradigm shift as demand for coal plummets, renewables capacity expands, and world leaders are increasingly united behind the need to tackle emissions. Recent net zero emission announcements from China, South Korea, and Japan in the past month, paired with Joe Biden's pledge to return the US to the Paris Agreement, are all expected to usher in a wave of policies that should benefit green energy development and sideline carbon intensive projects – investors and manufacturers are taking note.
"Clearly, there will be a paradigm shift in the energy sector globally," Kuramatani observed as he announced the company's new direction. "As a result, we have decided to stop receiving orders for coal-fired thermal power plants that emit large amounts of carbon dioxide."
Toshiba said on Wednesday that it will instead accelerate its pivots towards cleaner, renewable energy and focus on a new goal of halving greenhouse gas emissions related to its business by 2030. Kuramatani said the firm expected business opportunities to emerge as countries worked to meet decarbonisation commitments under the Paris Agreement and as such the company would be targeting a three-fold increase in its renewable business over the next 10 years.
The Japanese firm's announcement came just one day after turbine manufacturer Siemens Energy announced it would similarly stop taking new business from coal-fired power plants.
Chief executive Christian Bruch said new investments in coal were at odds with the company's commitment to sustainability. "Sustainability is at the core of our actions," he said. Both Siemens and Toshiba have said they will respect existing contracts, however, and the German firm said that existing technology partnerships would be also be "addressed" in light of its withdrawal from coal.
However, again there is a sense of a company recognising where market forces are heading. Siemens' gas and renewables focused operations look to offer far better long term opportunities than a sector that multiple governments want to phase out.
And yet another blow to the ailing coal sector was delivered this week, as South Korean conglomerate Samsung Group pledged to stop all investment in coal projects through its insurance arms, Samsung Life and Samsung Fire & Marine, and its asset management business.
The move comes after the company was criticised by investors and green groups following research that suggested the companies, the largest property and life insurers in South Korea, had provided $14bn for coal projects in the last decade.
The insurance firms have not directly financed coal projects since June 2018, but this week's announcement will mean they no longer underwrite insurance policies for such projects or invest in corporate bonds backed by coal projects, Samsung Group said.
In addition, Samsung Securities and Samsung Asset Management, the conglomerate's brokerage and fund management businesses, also committed to drafting investment guidelines that would mandate a ban on fresh investments in coal mining and coal power plants.
Samsung Group's withdrawal from coal is expected to have a ripple affect across other companies and financial groups in South Korea, which currently derives just five per cent of its electricity from renewable sources, according to the IEA.
Meanwhile, a smattering of financial updates from the US further planted another nail in the coffin of the coal sector, with the world's largest private sector coal miner Peabody revealing it was teetering on the verge of bankruptcy after its coal sales volumes plummeted by 23 per cent, and energy company American Electric Power Co announing plans to ditch 1.6GW of coal capacity in Texas by 2028 in a bid to meet federal regulations.
The Covid-19 crisis has undoubtedly played a major role in highlighting and accelerating the coal sector's decline, as plumetting energy demand during the pandemic saw cheaper forms of power such as wind and solar shouldering the lion's share of electricity demand in regions with high clean energy capacity. This week's developments provide yet further evidence that investing and partnering with the coal sector is not only reputationally risky due to its devastating impact on the environment and climate, but an enterprise that can undermine companies' potential for long term growth and financial security.
Original Source: businessgreen.com
Brushed under the carpet for long, mental health is finally getting the attention it deserves.
Sarbvir Singh, CEO, PolicyBazaar, on Wednesday said health insurance policies provided by all insurance providers would cover mental illnesses from October 1, 2020, under the new health insurance rules issued earlier this year.
"This is a big initiative. At large, people will now start considering mental health as an ailment which needs treatment," Sarbvir said.
The PolicyBazaar CEO was speaking at YourStory's flagship virtual conference TechSparks 2020 along with Shradha Sharma, Founder and CEO, YourStory, and Tanuj Shori, Founder and CEO, Square Yards.
The new health insurance policies would also clarify claim rules, coverage for telemedicine, and new definition of pre-existing disease among others.
Sarbvir said COVID-19 was a great opportunity to get things that we have always wanted to do in healthcare "done". "Today, there is no shortage of people on internet. But COVID-19 accelerated digital adoption only because there was no other option," he said.  
Digitisation had also led to a shift in the role of insurance agents.
Sarbvir said insurance agents now had more time to focus on building relationships and understanding the needs of customers, rather than investing time in administration tasks.
He added that technology will continue to play a huge role in the future.
"It's not just building apps or making user journey more efficient; it's effectively trying to bring the ecosystem together to do the job in a better, more efficient way. All we need is to step out of our boundaries."
For more information on TechSparks 2020, check out our TechSparks 2020 website. Sign up here to join the event. 
TechSparks – YourStory's annual flagship event – has been India's largest and most important technology, innovation, and entrepreneurship summit for over a decade, bringing together entrepreneurs, policymakers, technologists, investors, mentors, and business leaders for stories, conversations, collaborations, and connections that matter. As TechSparks 2020 goes all virtual and global in its 11th edition, we want to thank you for the tremendous support we've received from all of you throughout our journey and give a huge shoutout to our sponsors of TechSparks 2020. 
Edited by Teja Lele Desai
Original Source: yourstory.com
Future Group founder Kishore Biyani on Wednesday said the homegrown retail major lost nearly Rs 7,000 crore revenue in first three-four months of the COVID-19 pandemic due to closing of stores, which led him to sell his business to Reliance Industries.
In August this year, billionaire Mukesh Ambani's Reliance Industries announced acquisition of retail and wholesale business and the logistics and warehousing business from the Future Group as going concerns on a slump sale basis for Rs 24,713 crore.
"We got into a trap to be very honest with COVID-19. In the first 3-4 months, we lost nearly Rs 7,000 crore of revenue, Biyani said at the Phygital Retail Convention.
There was no way the company could have survived losing such an amount, he said, adding the problem is rent doesn't stop, interest (on debt) doesn't stop .
"We did too many acquisitions in the last six-seven years… I thought there was no other answer but to exit," he stated.
He said for retailers the worst is yet to come.
"We have designed business to be profitable at 90 percent of our targets. In any scenario… we will not be able to touch 70-80 percent (of target)… If you look at long-term planning 5 to 10 years — it will not be easy for physical stores," he said.
Through the deal made in August with Reliance Industries, the Ambani led firm will acquire Future Retail, which owns BigBazaar that sells everything from groceries to cosmetics and apparel, and Future Lifestyle Fashions Ltd that operates fashion discount chain Brand Factory.
Image: Flickr
ALSO READ
Kishore Biyani's Future Retail to raise up to Rs 650 Cr to reduce debt
While Reliance will take over Future Consumer, which sells food, home, and personal care products, Future Group's financial and insurance business is not part of the deal.
Future Retail operated 1,550 stores. Its flagship brands BigBazaar, FBB and Foodhall, Easyday, Heritage Fresh and WHSmith. Future Lifestyle Fashion operates 354 stores.
Investment from Reliance would help Future's founder Biyani pare debt.
Last week, US online retailer Amazon slapped a legal notice on Future Group, alleging that the retailer's Rs 24,713 crore asset sale to Reliance Industries violated an agreement with the ecommerce giant.
"We have initiated steps to enforce our contractual rights," a spokesperson for the Seattle-based ecommerce giant said. "As the matter is sub-judice, we can't provide details."
Amazon last year bought a 49 percent stake in one of Future's unlisted firms, Future Coupons Ltd, with the right to buy into flagship Future Retail after a period between 3 and 10 years. Future Coupons owns a 7.3 percent stake in Future Retail.
In August this year, Future reached an agreement to sell its retail, wholesale, logistics and warehousing units to Reliance.
The deal is awaiting regulatory approvals.
Edited by Megha Reddy
Get access to select LIVE keynotes and exhibits at TechSparks 2020. In the 11th edition of TechSparks, we bring you best from the startup world to help you scale & succeed. Register now! #TechSparksFromHome
Original Source: yourstory.com
Educational technology company Great Learning on Monday said it has roped in Indian cricket team captain Virat Kohli as its brand ambassador.
As the face of the Great Learning brand, Kohli will now lead the brand's latest 'Power Ahead' campaign, which underlines the importance of lifelong learning and showcases how high quality learning at the right time can help professionals and students power ahead in their career, the company said in a statement.
Commenting on the development, Great Learning Founder and CEO Mohan Lakhamraju said,
"Virat is the obvious choice to be our brand ambassador because he best embodies the Great Learning ethos of excellence and continuous learning."
The respect that he commands globally, across all age groups, and the connection that he has with the youth make him the perfect partner "to deliver our message of powering ahead in one's career through online learning", Lakhamraju added.
On his association with Great Learning, Kohli said, "Upskilling is all about one's aspiration to get better every day and willingness to work really hard for it. It is something I closely identify with. I also share the same passion for excellence that Great Learning does and am excited about our association."
Great Learning said it is launching a multi-film campaign with Kohli during the upcoming Dream 11 IPL, where the brand is associate sponsor on Disney+ Hotstar.
Indian Cricket Captain, Virat Kohli
ALSO READ
Also Read
[Funding alert] Virat Kohli and Anushka Sharma pump in Rs 2.5 Cr in insurtech startup Digit Insurance
The Gurugram-based edtech startup has so far delivered over 30 million hours of transformational learning that has empowered 300,000+ learners by helping them upskill in technologies like Artificial Intelligence, Machine Learning, Data Analytics, Cloud Computing, Cybersecurity, Digital marketing, etc.
In March 2020, amidst the COVID-19 outbreak, Great Learning also launched its free learning resource, the Great Learning Academy, to help professionals upskill themselves. Over four lakh learners have already benefited from the platform including employees from 700 leading global MNCs and PSUs as well as students from over 1,000 universities and colleges including IITs, IIMs, and NITs.
(Disclaimer: Additional background information has been added to this PTI copy for context)
Edited by Megha Reddy
Want to make your startup journey smooth? YS Education brings a comprehensive Funding Course, where you also get a chance to pitch your business plan to top investors. Click here to know more.
Original Source: yourstory.com
As businesses across the United States reopen, business owners are trying to figure out how to keep their employees and customers safe from the potential spread of COVID-19. As such, experts are gearing up for a possible wave of COVID-related liability suits in the coming months. To stem the possible tide of litigation, some states have passed protection laws, and Congress is considering a federal mandate. In the meantime, here are some tips to help you shore up your own defenses.
What is COVID-19 business liability protection?
As many businesses continue to experience the negative economic effects of the pandemic and the virus continues to spread across the country, business owners are weighing how to reopen safely. Some business owners are concerned that they will be sued, as has happened to some major retail chains.
Liability protections would shield businesses, schools and other institutions from such lawsuits as long as the businesses were operating in good faith and were following approved safety guidelines. Such protections would require the complainant to prove, without a shadow of a doubt, that the business in question was negligible in its efforts to reduce potential exposure to COVID-19.
What steps can you take now to protect your business against COVID-19 lawsuits?
As lawmakers consider their next move, legal experts are providing outside advice to small business owners who are looking to avoid COVID-related lawsuits. Andrea Sager, a small business attorney and entrepreneur, even created a free, downloadable liability waiver for consumers to sign before they enter a business. Though she believes a judge could choose to not enforce the document, she said it was important that reopening businesses cover their bases.
"I'm trying to ensure that my clients and all the small businesses are protected to reduce their liability," Sager said. Businesses that have a brick-and-mortar presence should have customers sign a waiver, because "these lawsuits are going to take off," she said.
In addition, Sager noted the following suggestions for businesses that are trying to prevent costly COVID-related claims:
Get familiar with your insurance policy.
Though not every business insurance policy is the same, there may be language in your agreement that helps with litigation costs. Even if your policy has general liability insurance, Sager said it might not be enough.
"We know that not all insurance companies act the same way, and there will be some small businesses that say, 'I can just call my insurance company,'" she said. "But that company will come up with some loophole to leave the business owner high and dry. Without the federal law, I think that even if a small business owner has insurance, not all of them will be covered."
Implement CDC guidelines.
Some states don't have mask mandates or social distancing policies in place, but businesses can establish their own policies. By enforcing guidelines set by the Centers for Disease Control and Prevention, you can establish a standard that could hold up in court.
By enforcing stricter rules, "if somebody wants to sue you, you can say, 'Look, this will go a lot further to protect people coming to my place of business,'" Sager said. "By following the law and taking it a step further, you can ensure that you won't be held responsible."
Reopen only if you can do so legally.
Governors have set the rules for which types of businesses can reopen. If your business is not allowed to reopen and you do so anyway, you could be hit with fees or arrested by local police. If your business is hit with a COVID-related lawsuit, a judge can note that you willfully ignored state rules and thus cast an unfavorable judgment against your interests. Before reopening, be sure to check local and state guidelines to make sure your business is cleared to reopen.
Communicate with your customers and employees.
When dealing with any kind of safety precaution, it's imperative to share your efforts with your employees and the general public. For example, if people coming to your business know you require a mask, they should have no excuse for showing up without one. If they do, you can point to your rules and deny them entry without fear of any credible backlash in court.
Your employees should be among the first to know about your safety precautions. However, make sure to consider the stipulations of the Americans with Disabilities Act (ADA), Sager said.
"Do not ask your employees to sign a waiver, because there are completely different considerations there with workers' compensation and possibly even ADA measures to consider," Sager said. Measures vary by state and by employee, "because if you can allow your employees to work remotely, you should do that for as long as possible," she said.
What liability protections have some states already established?
In the absence of a federal mandate for COVID-related business liability protection, some states have taken it upon themselves to create their own policies. As of August 2020, measures have already been taken in Wyoming, Utah, Oklahoma, Arkansas, Alabama, Georgia and North Carolina, while lawmakers in Minnesota, Iowa, Illinois, Ohio, Pennsylvania, New York, New Jersey, South Carolina, Mississippi, Tennessee, Louisiana, New Mexico and Arizona have legislation in the works. Though provisions vary by state, here are some overarching themes that lawmakers have implemented:
Retroactive protections. The first case of COVID-19 in the U.S. was diagnosed in Washington state on January 20. Due to a lack of testing at that time, it's impossible to know when the virus spread to different parts of the country. As such, states that have put their protections in place have backdated their rules. For example, Iowa's law covers any liability dating back to Jan. 1, while states such as Louisiana, Kansas and Alabama have opted to cover only as far back as mid-March, when widespread shutdown orders were put in place.
Doesn't protect willful negligence. As more states begin to establish mandatory mask policies, or even reverse some shutdown measures, state governments are stipulating that COVID liability protection rules will not protect businesses that fail to comply with public safety measures. If it can be proven that a business failed to meet guidelines at the federal, state or local levels, they can be found guilty of gross negligence and left vulnerable to a liability lawsuit.
Protections for health care providers. In addition to protections for retail and other brick-and-mortar establishments, some states have baked amendments into their provisions that protect health care providers from liability. Because these businesses are often visited by sick individuals, this kind of measure actively protects against the potential for a person to file claim that their COVID-19 diagnosis was directly linked to the business. Yet like other small business owners, medical practitioners can be shielded from potential litigation as long as they properly follow guidelines.
Some major retail and fast-food chains have already been hit with COVID-related lawsuits. Last month, CNBC reported that Walmart, Safeway, McDonald's and Amazon have faced such litigation. Once open, a business runs the risk of becoming a transmission site for the virus, regardless of how it operates. That's why any discussion about business liability protection at the state and federal levels have been an all-encompassing topic.
Each state's anti-liability measure is different. What may have passed in Wyoming is likely to differ in many ways from the bill passed in Ohio, for example. If your small business is in any of the states listed above, or if your state legislature is currently examining a similar measure, you should pay close attention to the guidelines laid out by your elected officials. Failing to meet the state's guidelines could leave you wide open for crippling legal fees, exhaustive court expenses and a costly settlement.
What the federal government is considering
Senate Republicans recently unveiled their stimulus plan to the country. GOP members stressed the importance of the bill's litigation protections. In fact, so important was the measure that Senate Majority Leader Mitch McConnell called it a "red line" issue, stressing that the bill would not pass without the provision.
"We need to provide protection, litigation protection, for those who have been on the front lines," he said on Fox News back in April. "We can't pass another bill unless we have liability protection." He echoed that sentiment while speaking with reporters after the bill's introduction, even though top Democrats have balked at the bill in its entirety for various reasons.
If passed, the proposed bill would standardize business liability protection during the pandemic. Like the provisions already passed at the state level, the federal liability protections would shield health care providers and employers, as well as school districts, from any lawsuits levied against them for exposure to the novel coronavirus. If a business were to be found guilty of gross negligence that led to the COVID-19 exposure, that business could still be targeted for a small business lawsuit.
While it's still unclear what, if any, measures Congress will pass, Sager said she hopes the litigation protections make the final cut. Without them, she said, scores of businesses in states that don't have any provisions in place could be forced to shut down because of deep legal fees.
"Unfortunately, there are some governors that want to leave it up to the local governments to make a response," she said. "The mandate should come from the federal government because we need something that will be enforceable throughout the whole country."
Original Source: business.com