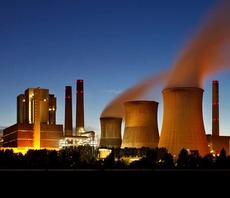 The coal industry's biggest cheerleader is about to be ousted from the White House and now leading infrastructure players are pledging to no longer provide infrastructure for coal fired power plants
The long term outlook for the coal market has been gloomy for some time, but in the past week the full scale of the existential threat facing the sector has been hammered home on multiple fronts.
President Trump famously failed to deliver on his promise to end the war on coal. He may have rolled back environmental regulations on the sector, but he could not negate the competitive pressures on the US coal industry from low cost renewables and gas. Coal company bankruptcies continued under the Trump administration and the US famously shuttered more coal power capacity under Trump's first term than it did under Obama's second term. But Trump did attempt to throw a lifeline to the embattled sector. President-elect Joe Biden has made no such promises and instead talks openly of multi-trillion dollar clean energy investment and a transition away from fossil fuels. The coal industry is arguably the biggest loser from Biden's victory.
And Presidential disapproval is the least of the industry's problems. The past week has seen a wave of coal divestment and withdrawal announcements from prominent infrastructure and investment firms, providing further evidence of the coal sector's increasingly precarious position in the minds of investors and business leaders.
In the past few days engineering giants Siemens and Toshiba have pledged to stop building components for new coal-fired power plants, joining General Electric and Black & Veatch as companies that have recently confirmed they will end their investments in the coal sector. Meanwhile, South Korea's largest conglomerate, Samsung Group, announced it would stop all types of funding for coal projects made by its insurance and investment businesses, delivering a further blow to the ailing sector.
As Toshiba president Nobuaki Kuramatani put it, players across the energy sector supply chain are gearing up for a major paradigm shift as demand for coal plummets, renewables capacity expands, and world leaders are increasingly united behind the need to tackle emissions. Recent net zero emission announcements from China, South Korea, and Japan in the past month, paired with Joe Biden's pledge to return the US to the Paris Agreement, are all expected to usher in a wave of policies that should benefit green energy development and sideline carbon intensive projects – investors and manufacturers are taking note.
"Clearly, there will be a paradigm shift in the energy sector globally," Kuramatani observed as he announced the company's new direction. "As a result, we have decided to stop receiving orders for coal-fired thermal power plants that emit large amounts of carbon dioxide."
Toshiba said on Wednesday that it will instead accelerate its pivots towards cleaner, renewable energy and focus on a new goal of halving greenhouse gas emissions related to its business by 2030. Kuramatani said the firm expected business opportunities to emerge as countries worked to meet decarbonisation commitments under the Paris Agreement and as such the company would be targeting a three-fold increase in its renewable business over the next 10 years.
The Japanese firm's announcement came just one day after turbine manufacturer Siemens Energy announced it would similarly stop taking new business from coal-fired power plants.
Chief executive Christian Bruch said new investments in coal were at odds with the company's commitment to sustainability. "Sustainability is at the core of our actions," he said. Both Siemens and Toshiba have said they will respect existing contracts, however, and the German firm said that existing technology partnerships would be also be "addressed" in light of its withdrawal from coal.
However, again there is a sense of a company recognising where market forces are heading. Siemens' gas and renewables focused operations look to offer far better long term opportunities than a sector that multiple governments want to phase out.
And yet another blow to the ailing coal sector was delivered this week, as South Korean conglomerate Samsung Group pledged to stop all investment in coal projects through its insurance arms, Samsung Life and Samsung Fire & Marine, and its asset management business.
The move comes after the company was criticised by investors and green groups following research that suggested the companies, the largest property and life insurers in South Korea, had provided $14bn for coal projects in the last decade.
The insurance firms have not directly financed coal projects since June 2018, but this week's announcement will mean they no longer underwrite insurance policies for such projects or invest in corporate bonds backed by coal projects, Samsung Group said.
In addition, Samsung Securities and Samsung Asset Management, the conglomerate's brokerage and fund management businesses, also committed to drafting investment guidelines that would mandate a ban on fresh investments in coal mining and coal power plants.
Samsung Group's withdrawal from coal is expected to have a ripple affect across other companies and financial groups in South Korea, which currently derives just five per cent of its electricity from renewable sources, according to the IEA.
Meanwhile, a smattering of financial updates from the US further planted another nail in the coffin of the coal sector, with the world's largest private sector coal miner Peabody revealing it was teetering on the verge of bankruptcy after its coal sales volumes plummeted by 23 per cent, and energy company American Electric Power Co announing plans to ditch 1.6GW of coal capacity in Texas by 2028 in a bid to meet federal regulations.
The Covid-19 crisis has undoubtedly played a major role in highlighting and accelerating the coal sector's decline, as plumetting energy demand during the pandemic saw cheaper forms of power such as wind and solar shouldering the lion's share of electricity demand in regions with high clean energy capacity. This week's developments provide yet further evidence that investing and partnering with the coal sector is not only reputationally risky due to its devastating impact on the environment and climate, but an enterprise that can undermine companies' potential for long term growth and financial security.
Original Source: businessgreen.com
The Logistics industry has emerged as one of the heroes of the pandemic. With people increasingly dependent on ecommerce to meet both essential and daily needs, the sector has witnessed a huge surge in demand. Although this has put the spotlight on the key role Logistics plays in our economy, there is unprecedented pressure to scale up and increase efficiency while optimising costs.
The past year has also seen the sector benefit from tailwinds such as being granted infrastructure status in 2017, which opened up several institutional funding opportunities; and increased interest from investors. There has also been increased support from the government with a Logistics division created under the Department of Commerce to formulate policy changes, update procedures, identify bottlenecks; and scale the deployment of technology-driven solutions.
To understand the pulse of the sector and what some of the major players in the Logistics sector are saying, YourStory and Amazon Web Services (AWS) hosted a roundtable discussion with 14 Founders, CTOs, CEOs and business leaders to understand Disruption in Indian Logistics & Transport-tech Ecosystem. The session was moderated by Guru Bala, Head of Technology and Solutions, AWS Specialized Services.
Changing dynamics
The session began with a fireside chat with Thejasvi Bhat, Head of Engineering, BlackBuck, and Pankaj Risbood, CTO, Zendrive, who spoke about how the dynamic in the sector had shifted with the onset of the pandemic. Both agreed that their number one focus was on safety.
"Safety has become this top thing that is driving business value. At Zendrive, we focus on solutions around transportation safety, understanding how drivers are driving, behaviours that may increase the risk of collisions, and risk mitigation such as roadside assistance and emergency assistance and even insurance follow-ups in the event of a collision," said Rishab.
He added that there is an increasing need for road safety solutions, and that several online cyber safety players were also getting into the fray.
Speaking about how the pandemic had affected the industry, the majority of which is still unorganized, Thejasvi said, "The pandemic has created some amount of disruption. Prior to its outbreak, things worked like a well-oiled machine because you knew where the trucks were going, and hence, you could predict demand and supply. With a dip in demand, truckers started exploring their own routes. We gave fleet owners a suite of services from tracking services to fuel capability, insurance and so on and so forth. We are also connecting customers who want to move tonnage with the right supply partners."
Another area that was likely to see disruption was insurance. With most people driving only a fraction of what they used to, many are questioning why they need to continue paying the same premium.
"Insurance has always been a 3 to 5 percent margin business. And now, insurance firms have to reduce costs further because there is downward pricing pressure. Then, it makes it very difficult and we are seeing increasing demands for usage-based or behaviour-based insurance as opposed to a blanket annual insurance," said Pankaj.
Safety for all
After the fireside chat concluded, the rest of the panel also weighed in on what their focus areas would be. It was no surprise that once again it was in providing protection against contracting the virus. Anoop Menon, CTO, redBus said, "We are transporting hundreds and thousands of passengers every day. A sense of safety has to be brought into the business. Our safetyPlus programme has evolved into a completely different animal. We have hired external auditors to check that we maintain the highest level of standards, and 60-70 percent of our operators have already signed up for the programme."
Akash Maheshwari, Co-founder and CTO, MoveInSync believes that a huge fear psychosis exists and people will not travel unless they are compelled to. "We built a site called covidhotspots.in to identify affected zones in the city, but that has gone for a toss as there are so many containment zones in Bangalore. So, I think it's important to strategize every week. We should not expect any transport of people for the next few months. Most of our customers feel that not even 10 percent of their employees will return till there is a vaccine."
The ecommerce wave
While the transport of people has fallen, the number of people ordering goods online has skyrocketed. Dinesh Dixit, VP, LogiNext said that they have seen a lot of traction in deliveries. Dinesh, who is based in the US, said that there was a 60 percent increase in furniture delivery as people have been trying to improve their homes under the lockdown. "Delivery companies are already dealing with razor-thin margins, whether it's quick-service restaurants or even third-party logistics carriers. They have now been categorised as critical service providers, so they are among the few who could actually run their businesses. A lot of it is around messaging, and with concerns around safety, many are reaching out to us to provide tracking information so the customer gets visibility in real-time," said Dinesh.
Naveen Dachuri, Co-founder and CTO of Yulu agreed that more people would be choosing to stay home. "Indoors is the new outdoors. There will be more demand for food services or delivery services because people simply don't want to go out. The second thing is we have to somehow make our users feel that whatever the services they are using are safe," said Naveen.
Another interesting trend that could emerge is brands reaching out to customers to establish themselves as safe. Santosh Desai, CTO, Blowhorn said, "A lot of brands that were in the B2B sector are now connecting directly to the customer rather than go through another omnichannel partner. It could be as simple as connecting with them over WhatsApp."
On-time delivery
In addition to allaying customer concerns over safety, logistics providers have also been working to streamline their processes to ensure on-time deliveries. Kashyap Deorah, Founder and CEO, HyperTrack said, "Hyperlocal package delivery has been doing well. Maps are more accurate, and today, there is less traffic on the road. As long as you can make sure that the address is accurate on both sides, ETAs should be accurate. The biggest pain point in delivery from an ETA perspective is the first 100 metres and the last 100 metres, when you factor in waiting times, parking, etc. So modelling that has always been the bane of the industry."
Delivering custom solutions for businesses will be way forward. Gaurav Bubna, Co-founder, NextBillion.ai, said, "The main challenge is that problems can also be very unique to both transportation modes and geographies. The way addresses are given also vary vastly from one country to another. In India, detailed addresses are provided; in some parts of the Middle East, we get instructions to meet the recipient at the tree near the bus stop. In such situations, Google Maps is just not enough. So, we are hoping to build something that offers much higher performance at a better price point that will be tailored and customized to each business."
Accurate timing is especially important when it involves transport for people going to work. Sriram Kannan, Founder & CTO, Routematic, said, "People plan their schedules around these timings. My favourite thing to say is: you wake up because you have to go to the office, you don't wake up and decide to go to the office. This takes a fair amount of time series analysis and we routinely process around 300 million samples a day to get a predictive model that is 95 percent accurate to within 10 minutes."
Delays can also occur when a relationship of trust has to be built. Gautham Muthuravichandran, CTO, LYNK logistics said, "We have started doing something called distribution as a service during the COVID period. We have made partnerships with FMCG companies, and we have rented out some warehouses to deliver to retail stores. Because we've been in this space for only three months, we have seen that whenever we go and deliver a package to a particular retail store, they open the box and check everything. We have tried various things like transparent packages, but they don't believe in the concept of returning things and are not very sure we are coming back. This process of waiting at the store can take more than 20 minutes."
Data sharing and efficiency
Jaggi Ayyangar, CEO, Yakit believes that cross-border and B2C commerce will definitely benefit. "Our main problem is supply, not demand, as the latter is huge. Currently, our delivery date algorithms have been thrown a curveball because there is not enough data and things are fluctuating widely. Geolocation is very important and we will be happy to use any APIs that AWS has to help us with that."
In terms of sharing data, some of the participants expressed the view that common information such as routing and ETAs could be part of a common store that they could all tap into.
Prashant Gupta Co-founder Clickpost said that they were already using data from third-party logistics providers rather than using more popular APIs. "This includes tracking shipments, ETAs to show end customers and with hub-to-hub movement. This has worked really well for us and we have had over 90 percent accuracy with this."
However, a key factor that needs to be taken into consideration before creating a data lake where everyone can contribute is the need to standardise the data that is being generated. "With data flowing in from different IoT devices, it has to be streamlined and put in a format that can be consumed by everyone. So I think the focus should be more on first standardizing the platform itself from where the data is coming in," said Naveen.
According to the "Indian Logistics Industry Outlook, 2020", India's Logistics sector is set to see growth driven by development in the transport sector, demand for eCommerce; changing consumer patterns; a shift in service sourcing; government reforms, and most importantly the adoption of digital technologies. Current players and future entrants will have to hit the road running, innovate and adapt to these evolving stay relevant in the future.
Want to make your startup journey smooth? YS Education brings a comprehensive Funding Course, where you also get a chance to pitch your business plan to top investors. Click here to know more.
Original Source: yourstory.com
Banking and finance plays an essential role in driving the growth of the Indian economy. In the past few years, we have seen the rise of fintechs and digital wallets, which has led to a massive increase in the financial inclusion of the Indian population, especially in rural areas.
To prevent fraud and money laundering, the BFSI sector needs to comply with KYC norms that were introduced by RBI and are based on the Government of India's (GOI) PMLA Law of 2002.
Aadhaar-based KYC verification had simplified the process and reduced the time taken by the BFSI sector to on-board customers drastically. But, things changed with the Supreme Court order dated September 26, 2018, declaring the use of Aadhaar-based KYC by private players as unconstitutional.
To overcome this challenge, RBI has introduced Video KYC as an alternate tech-driven mode of KYC in its notification dated January 9, 2020. It is based on the Aadhaar and Other Laws (Amendment) Bill, 2019, which was introduced by the government on June 24, 2019.
The RBI amendments state that "with a view to leveraging the digital channels for Customer Identification Process (CIP) by Regulated Entities (REs), the Reserve Bank has decided to permit Video-based Customer Identification Process (V-CIP) as a consent-based alternate method of establishing the customer's identity, for customer on-boarding".
Also ReadBanks can use Aadhaar for KYC with customer's consent: RBI
Contactless on-boarding during COVID-19
Video KYC could prove to be a tremendous boost for private and public banks, lending companies, prepaid wallet players, insurance, financial securities, and non-banking financial institutions. They are now looking for a contactless and paperless customer on-boarding process while still being 100 percent compliant with RBI guidelines.
The Video KYC provision allows bank officials or regulated entities (RE) to remotely verify the customer's identity using Aadhaar or PAN card. To ensure the integrity of the Video KYC process, RBI encourages REs to adopt AI-driven and face-matching technologies.
However, there are certain guidelines laid by RBI to comply with before initiating this process. The audio-visual interaction is triggered by RE's domain, and the Video-Based Customer Identification Process (V-CIP) shall then be operated by the officials that are specifically trained for it.
This could significantly reduce the time from a five to seven-day process to three minutes to on-board a customer remotely. It will allow BFSIs, NBFCs, and e-wallets to provide superior customer experience and will reduce on-boarding costs by 90 percent.
Beyond compliance: a competitive differentiator
While Video KYC has enabled banks to ensure compliance with remote on-boarding, customer drop-offs remain the biggest challenge.
To complete the Video KYC process successfully, customers need to have their Aadhaar, PAN card, and other documents to verify the signature handy. It needs a pre-scheduled time and many times banks would need to chase customers to get this KYC interview to happen.
This then becomes an important step in the on-boarding journey and needs to be looked like a sales funnel.
To ensure higher video KYC completion rates, BFSI companies need to put the effort into reminding and scheduling the video KYC recording at the customer's convenience. Experience would be key here.
Banking and finance companies that can make this process hassle-free for users have the highest chance to reduce drop-offs and on-board more customers.
Let's say, for example, a bank ABC uses only outbound calls to remind customers to complete their KYC. Another bank DEF uses other non-intrusive channels, like SMS or WhatsApp, to remind customers and even allows them to reschedule KYC recording on the go.
DEF bank gives the control of KYC completion to the customer who can complete the process at his convenience rather than just getting interrupted by a voice reminder of bank ABC.
This superior customer experience can become a competitive advantage for banking and finance companies to acquire more customers and gain a higher market share.
Future of video KYC
Video KYC is here to stay and will become the de facto choice of customer identification.
We see many tech investments happening in this space to make the system more robust and ensure the integrity of the video KYC process.
Some of these are
AI-based face recognitionEnsuring good video quality for low networksVideo compression to reduce storage space requirement while ensuring integrityFraud and spoofing attack preventionScreen sharing for Aadhaar offline KYCConcurrent audits to fast-track the processAutomated omnichannel reminders and schedulers
The acceleration towards digital adoption in the banking and finance sector is expected to rise with the introduction of video-based digital KYC.
While the banking and finance sector has been discussing digital transformation for long, COVID-19 has left them with no option but to implement it. Many of them have started using alternate modes of engagement like WhatsApp and IVR. Video KYC is also enabling them to manage compliance requirements.
The BFSI sector can integrate video KYC as part of the customer journey workflow to on-board customers digitally while still ensuring compliance with RBI guidelines.
(Edited by Teja Lele Desai)
(Disclaimer: The views and opinions expressed in this article are those of the author and do not necessarily reflect the views of YourStory.)
Want to make your startup journey smooth? YS Education brings a comprehensive Funding and Startup Course. Learn from India's top investors and entrepreneurs. Click here to know more.
Original Source: yourstory.com
Lloyd's of London said Thursday morning that it expects coronavirus-related losses to the insurance sector to be the largest to date.
Original Source: cnbc.com