Newsletter Special Report: Millions of Jobs Added, Millions More to Go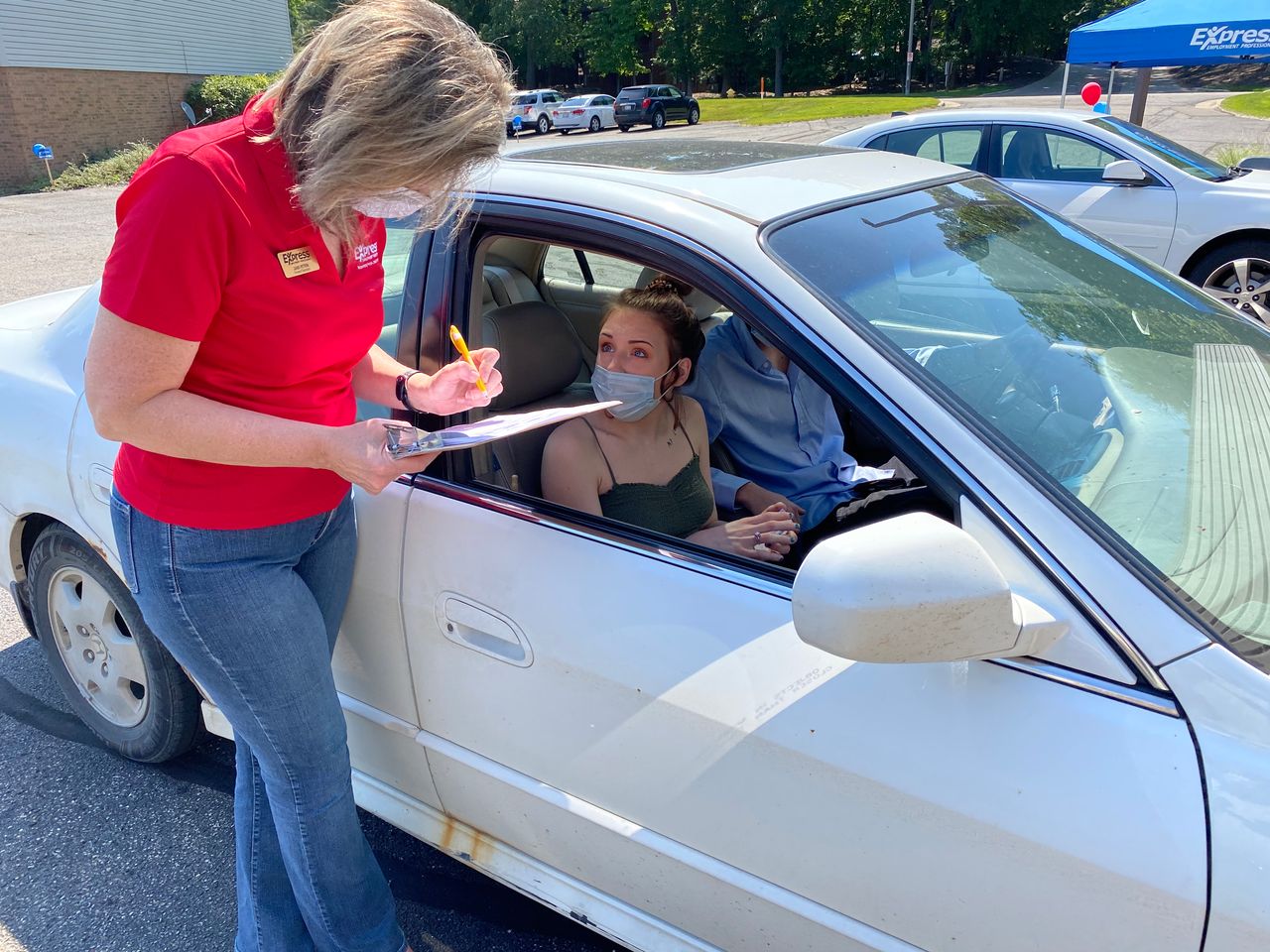 This is the web version of the WSJ's newsletter on the economy. You can sign up for daily delivery here.
Employers added 1.8 million jobs in July and the unemployment rate fell to 10.2%, marking only partial progress toward recouping massive losses tied to the coronavirus pandemic. Jeff Sparshott and Greg Ip here to take you through the key numbers.
Maybe Not a V, but Not a U Either
July's payroll growth, at 1.8 million, still leaves total payrolls 12.9 million lower than in February. And yet if job gains continued at July's pace, that deficit will be erased by March, 2021. If payrolls reclaim their last peak in 13 months, that would be remarkably fast. It took more than six years after the last recession. So can they maintain that pace? In July, job gains were blunted by a resurgence of the virus in the South and West which put the brakes on economic reopening. With cases slowly trending down now, economic activity should pick up, though that hasn't shown up yet in private data such as credit card spending. Spending could also take a hit from the recent expiration of enhanced unemployment insurance benefits; Congress is struggling with an extension. And it's unlikely that the pandemic is going to completely disappear by next year, so neither will the damage to many industries such as tourism and retailing. —Greg Ip
KEY THEMES
Labor-Market Churn
The unemployment rate fell for mostly the right reasons. Some people dropped out of the labor force but not nearly as many as found a job. Measures across the board improved, including the share of workers who wanted full-time work but were stuck in a part-time job.
The number of workers on temporary layoff fell and the number of permanent job losses was little changed last month, suggesting that many workers are getting recalled to old jobs or are able to switch into new ones. "The rate of churn in the labor market remains incredibly high, but a notable positive detail in this month's report was the downtick in the rate of new permanent layoffs," economists at Morgan Stanley wrote.
One potentially worrisome sign: The number of long-term unemployed is on the rise. That suggests that some people are at risk of getting locked out of the labor market—and ultimately exhausting unemployment benefits.
Job losses and gains haven't been evenly distributed. Initially Blacks were less hard-hit than some other racial groups in the early stages of the recession, but the drop in their unemployment rate in July was the smallest among racial groups. —Greg Ip
Some of that was due to growing labor force participation; the Black employment-to-population ratio rose more than for Hispanics and whites. —Greg Ip
Who's Hiring?
Some of the industries hit hardest by March and April lockdown orders experienced some of the biggest gains last month. Bars and restaurants, retailers, healthcare, laundry services and gambling halls posted big gains from June to July, reflecting efforts to reopen the economy by relaxing social distancing requirements.
While positive, July's gains only begin to retrace earlier losses. And it's not clear that the Labor Department data fully captured rising Covid-19 caseloads toward the end of July, which caused state and local governments to halt or roll back reopening plans and consumers to show renewed caution.
Not everything may be as it seems with the monthly figures. Government jobs, mainly in public schools, rose by a seasonally adjusted 300,000 in July. That's welcome relief for a sector that typically stabilizes the economy in downturns, but which has been hard hit by the pandemic. However, it may be a mirage. On an unadjusted basis public-school jobs continued to decline in July, but the decrease was smaller than seasonal factors expected—because so many jobs have already been cut. Bottom line: If large school districts holding class online this fall don't rehire staff, job losses will resume in the public sector soon. —Eric Morath
Can We Fix It?
One final note: The Labor Department appears to have largely solved misclassification problems that had artificially suppressed the unemployment rate. In March, April and May the agency counted millions of workers as absent—something that usually applies to vacation or sick leave—when they probably should have been classified as unemployed. That subtracted as many as 5 percentage points from the headline rate. The issue now accounts for less than 1 percentage point, Labor said Friday.
TWEET OF THE DAY
[wsj-responsive-sandbox id = "0" ]
WHAT ECONOMISTS ARE SAYING
"This is not a V-shaped recovery. Adding 1.8 million jobs is not sufficient for any sort of speedy recovery after the astronomical job losses of early spring." —Nick Bunker, Indeed
"The pace of job growth slowed in July, but the gains over the past three months represent an impressive rebound during the ongoing economic challenges brought forth by the pandemic." —Mike Fratantoni, Mortgage Bankers Association
"Recovery in jobs to pre-pandemic levels will likely be slow and prolonged, one that will restrain the pace of recovery." —Rubeela Farooqi, High Frequency Economics
"These numbers suggest that the surge in virus cases since late June has so far not prevented the continued re-opening of the economy at the national level." —Brian Coulton, Fitch Ratings
"The slowdown we're seeing is a reminder that a return to economic stability is ultimately hinged on addressing the public health crisis." —Daniel Zhao, Glassdoor
"The economy is expanding, but the pace of improvement has slowed." —Jim Baird, Plante Moran Financial Advisors
"The huge remaining level gap in employment—still 12.9m lower than in February before the Covid shock hit—will keep the Fed firmly focused on supporting the recovery." —Krishna Guha, Evercore ISI
"The payroll count still reveals a slowing in the pace of the labor market recovery. In the absence of additional fiscal aid, the broad economy risks losing momentum as it shifts into the second phase of its rehabilitation." —Kathy Bostjancic, Oxford Economics
SIGN UP FOR OUR CALENDAR
Real Time Economics has launched a downloadable calendar with concise previews forecasts and analysis of major U.S. data releases. To add to your calendar please click here.
Original Source: blogs.wsj.com
Visited 284 Times, 1 Visit today