Guaranteed Travel Security with Rhino Africa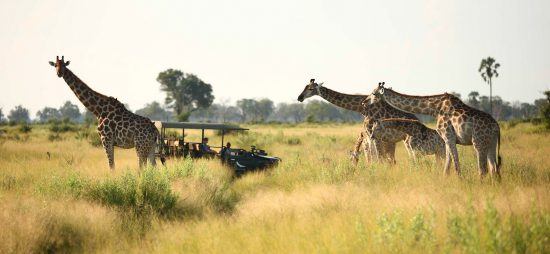 Safety, security and assurance are all words you want to hear when your travel planning begins. What Covid-19 has highlighted is how vital these three components are to any well-crafted itinerary. Not always the glamorous side to planning an African adventure, but especially given our current travel environment, it is important that you travel with a company who is giving full attention to these areas.
Rhino Africa was founded on the principle that every single client is expertly looked after before, during and after their travel. Holidays, especially those to Africa, are for experiencing as much as possible, connecting with loved ones and trying to take in as much as you can in. We make sure we take care of all the details so every client experiences a perfect African holiday.
Travel Security during Covid-19
The travel landscape has shifted through the Covid-19 pandemic and, at Rhino Africa, we have made sure that we are providing even more security for our travellers: going the extra mile so each holiday can be booked with confidence.
These are the 3 reasons why travelling with Rhino Africa provides you with piece of mind:
Increased flexibility with adjusted Covid-19 Terms & Conditions;
Comprehensive Covid-19 Travel Protection & Insurance Services;
Free Covid-19 testing for clients departing from South Africa.
Increased Flexibility in our Terms & Conditions
With Covid-19 thoroughly raining on our travel plans for 2020, it has given us the opportunity to amend our Terms & Conditions. We now offer 100% free cancellation with new bookings made before 31 Decembers 2020, with a travel date of March 2021 onwards. You may also cancel your trip 60 days prior to departure and get 100% of your deposit back! This guarantee is applicable to an inability to travel due to possible complications associated with Covid-19, such as travel bans and quarantine requirements which prevent travel from taking place.
Comprehensive Travel Protection and Insurance Services
Rhino Africa has partnered with the best in the business, Global Rescue, to make sure that all holiday investments are safe and secure. Global Rescue offers medical and security advisory and evacuation services. They have an exclusive partnership with the Johns Hopkins Emergency Medicine Division of Special Operations, in addition to partnerships with Elite Medical Group and Partners HealthCare, the Harvard Medical School affiliate.
With five operations centres in five countries, Global Rescue is staffed 24/7/365 by experienced nurses, critical care trained paramedics to assist members in any situation. With international travel being an uncertain landscape for the foreseeable future, ensuring you have travel protection is as important as booking the perfect safari lodge.
Why do more than one million members trust Global Rescue?
Medical and security advisory services;
Emergency assistance 24/7/365;
Medical and security evacuation services;
Detailed destination reports and real-time event alerts;
My Global Rescue Mobile AppSM;
Access to travel insurance.
Learn more about Global Rescue's travel services.
What about Travel Insurance?
With some African countries specifying travel insurance as a prerequisite for entry, we have taken the hard work out of sourcing your own travel insurance and made it part of the booking process through Global Rescue. Travel insurance includes:
Up to $100 000 medical expense & emergency assistance cover;
Up to 150% of the trip cost reimbursed for unforeseen Trip Interruptions;
Up to $100 000 cancelation cover including claims arising from Covid-19;
Cancelation for any reason benefit – up to 75% of non-refundable trip costs (upgrade)
Free Covid-19 Testing if departing from South Africa
A unique service for our Rhino Africa clients, this provides peace of mind when completing your trip and starting the process of getting back home. Our Travel Experts will arrange it all, making sure it is complete and your test results are returned to you before your departure date. For guests travelling outside of South Africa, our Travel Experts will also ensure that all appropriate testing is conducted accordingly.
Frequently Asked Questions Regarding Travel Protection & Travel Insurance
Is travel insurance worth it?
This is a question we get asked a lot and our answer is always the same. Investing in comprehensive travel insurance makes absolute sense when travelling to Africa. With the ongoing travel uncertainties, having the confidence to book knowing you will be reimbursed should you not be able to travel, is worth the investment. Africa is generally considered a long-haul destination and as a rule of thumb, the longer it takes you to get to your destination, the more your trip needs travel insurance
What Covid-19 cover is included in Global Rescue Travel Insurance?
Covid-19 is treated the same as any other illness, which might affect travel of any nature. This includes:
Trip Cancellation
Trip Interruption
Accident & Sickness Medical Expense
In short, you are covered for any Covid-19 related travel complication.
Am I covered if I decide to travel against travel restrictions/advice?
Yes, assuming you are not committing a felony or crime by doing so. However, if the traveller incurs a loss as a direct result of an event which occurs prior to the travel insurance effective date, benefits would not be available.
Does my policy cover me if I am diagnosed with Covid-19 whilst travelling overseas?
Yes. Covid-19 is treated the same as any other sickness.
Am I covered for cancellation if I am diagnosed with Covid-19 before I travel?
Yes, but also fully depends on the plan option selected by the client. This can include trip cancellation, interruptions or accident and sickness medical expenses.
For any further questions, our Travel Experts are always ready and eager to assist. Africa is open for travel and we can't wait to welcome everyone back to Africa soon.
Original Source: blog.rhinoafrica.com
Visited 461 Times, 1 Visit today